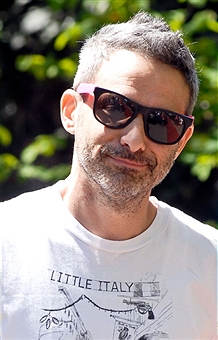 Adam Horovitz, aka Ad-Rock of the Beastie Boys, is in discussions to join Ben Stiller and Naomi Watts in Noah Baumbach's indie movie "While We're Young," an individual familiar with the New York-set project has told TheWrap.
Horovitz made his acting debut as a troubled Los Angeles youth opposite Donald Sutherland in the 1989 drama "Lost Angels," though he hasn't tackled a substantial movie role in two decades.
Written and directed by Baumbach, "While We're Young" stars Stiller and Watts as a married couple that strikes up an unlikely friendship with a free-spirited younger couple, to be played by Adam Driver ("Girls") and Amanda Seyfried ("Lovelace").
Schedule permitting, Horovitz would play a married friend of Stiller and Watts' characters who just had a baby and can no longer relate to the childless couple or why they feel the need to hang out with twentysomething hipsters.
Also Read: Amanda Seyfried to Star in Noah Baumbach's 'While We're Young' (Exclusive)
Scott Rudin and Eli Bush are producing the long-gestating project, which will start production this fall.
After "Lost Angels," Horovitz went on to tackle a supporting role alongside Matt Dillon and Max von Sydow in the 1991 thriller "A Kiss Before Dying," as well as appear in the 1992 road trip movie "Roadside Prophets." He recently played himself in a 2009 episode of "30 Rock" and starred in the Beastie Boys concert documentary "Awesome: I Fuckin' Shot That," as well as Spike Jonze's Funny or Die short "Don't Play No Game That I Can't Win."
Also Read: Adam Driver in Talks to Reteam With Noah Baumbach on 'While We're Young' (Exclusive)
On the music side, the Beastie Boys had songs on the soundtracks for both of J.J. Abrams' "Star Trek" movies. Horovitz also provided music for "The Ben Stiller Show" in 1992. He's repped by WME.