It was 40 years ago that newlyweds John Lennon and Yoko Ono ran their holiday message to the world in a full-page New York Times ad: GIVE PEACE A CHANCE. The couple also posted on billboards in 11 cities around the globe: WAR IS OVER! If You Want It."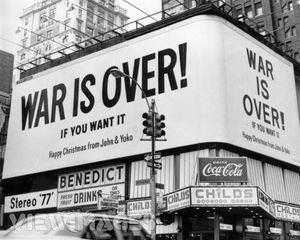 At the same time, an unseasonable war was escalating among the once harmonious Beatles.
In September 1969, Lennon had told the others that he was breaking the group up. McCartney begged him to delay a public announcement so as to not jeopardize sales of their imminent release, "Abbey Road." His songwriting partner begrudgingly agreed.
At the end of the month, John recorded what was to become his first solo holiday hit, "Cold Turkey," about his heroin withdrawal. In explaining his and Yoko's addiction, he later told an interviewer, "We took H because of what the Beatles and others were doing to us."
Indeed, Paul and George in particular had never cottoned to Yoko, and made little effort to disguise their feelings, especially when she infiltrated Beatle recording sessions. Even so, John had married the pregnant Yoko in Gibraltar, only a week after Paul married the pregnant Linda Eastman.
Strengthening his holiday appeal for world – not Beatle – peace and goodwill, John returned his MBE medal days before Thanksgiving. "Your Majesty," his note to Queen Elizabeth II read, "I am returning this in protest against Britain's involvement in the Nigeria-Biafra thing, against our support of America in Vietnam, and against 'Cold Turkey' slipping down the charts. With love, John Lennon."
The stage for the Beatles' estrangement had been set two years before in 1967 when their manager and buffer, Brian Epstein, died. The take-charge Paul outmaneuvered a passive John and got the Beatles aboard his Christmastime "Magical Mystery Tour" movie. Which bombed.
On Dec. 27, the Cute One addressed his critics on "The David Frost Show." "Was it really that bad compared to the rest of Christmas TV?" he asked. "You could hardly call the queen's [holiday] speech a gas."
In spite of Paul's "Magical Mystery" crash, its launch party was an unexpected success. For John. It was here that, in the spirit of the season, he danced and got drunk with his father, Freddie, who had abandoned him at age 5. "From now on, I hope we'll be in close contact all the time," John told the Daily Mirror.
As for his band, during their five-month recording of "The White Album" in 1968, there was more disharmony. Ringo, usually the diplomat, threw down his sticks and quit for two weeks. Later, George did the same. And their producer, George Martin, nearly threw in the towel, too.
The historic double album was released the week before Thanksgiving. At the same time, Yoko had a miscarriage. And John was busted for pot, found guilty and fined 150 pounds.
Refusing to let this ruin his holiday, the Clever One did the Royal Albert Hall's Underground Christmas Party. Here, exhibiting "total communication," he and Yoko took the stage tied together into a womblike white bag.
Days later, they dressed up as Father and Mother Christmas at the gala holiday party for the Apple boutique. Present were hangers-on, staffers and an army of their kids. Plus the California Hell's Angels.
The motorcycle gang had been invited by George Harrison. In a heads-up note to Apple staffers, the guitarist wrote: "They may look as though they are going to do you in, but are very straight and do good things, so don't fear them or uptight them."
Unlike a year later in Altamont, nobody did uptight the Angels. The Beatles and Apple put out a great spread. For adults: a full Scotch and hashish bar. For children: mountains of ice cream and cake, plus a ventriloquist and magician. For all ages: a 42-pound turkey, said to be the biggest in Britain.
The Angels were given firsts on the wet bar and the bird. So everything stayed cool.
The only scrooge was the Walrus. Recalled his friend, Pete Shotton: "Complete with false white beard, John seemed altogether lacking in seasonal spirit, and made the most miserable-looking Santa I had ever seen in my life."
In fact, John was under the weather with H, which he would sing about the next holiday on "Cold Turkey."
Things became less even festive for him post-"Cold Turkey": in the spring of 1970, Paul announced to the press he was quitting the Beatles. And he released his self-titled solo album.
Feeling outmaneuvered and betrayed, Lennon was livid. He vented his spleen on his collaborator in his Christmas interview with Rolling Stone magazine, blaming Paul for the break-up. Meanwhile, George released "All Things Must Pass." And the Beatles issued their eighth and last Christmas record.
Paul remained unapologetic even as he petitioned the High Court to dissolve the Beatles that New Year's Eve. "I was never out to screw John, never," he said. "He could be a maneuvering swine, which no one ever realized."
Months later, John, along with George and Ringo, allegedly dropped by Paul's estate and threw a brick through his window.
That fall, 1971, John released "Imagine," singing about "living life in peace … and a brotherhood of man." The album also included "How Can You Sleep?" calling Paul's songs "muzak" and his talent "yesterday." George played back-up on the cut.
Just after the guitariast laid down the track, he asked John to return the favor by joining him at Madison Square Garden for his Bangladesh Benefit Concert. Initially Lennon agreed but then backed out when Harrison told him McCartney was on the guest list too, but not Yoko.
By the next holiday season, 1972, miraculously much was forgiven and forgotten among the once Fab Four. John and Yoko expressed the hard-won reconciliation in their "Happy Xmas (War Is Over)."
"A very Merry Christmas and a Happy New Year," they sang. "Let's hope it's a good one without any fear. War is over if you want it, war is over now."