"Game of Thrones" star Emilia Clarke made headlines this week when she expressed her distaste for steamy love scenes, telling an interviewer, "Sex scenes should be more subtle. I'm British, so I cringe at that sort of thing anyway — I can't stand it."
This, despite the fact that "Game of Thrones" overflows with nudity and sex, and Clarke herself was practically split in two during one particular session with Jason Momoa on the HBO drama.
But while others ponder the oddity of it all, TheWrap wants to reassure Clarke that she's in good company — plenty of actresses who've pooh-poohed onscreen nudity and sex scenes have nonetheless stripped down to nothing but a forced happy-face to get the job done. Way to take one for the team, ladies!
Also Read: 'Sleeping With Other People' Director on 'Easy' Male Leads, Sex Scenes With 'Goody-Goody' Alison Brie
Below, TheWrap presents the 11 Best Sex Scenes by Actresses Who Hate Sex Scenes.
Mary-Louise Parker
Former "Weeds" star Parker complained about a nude bathtub scene on the Showtime series, huffing, "I didn't think I needed to be naked… I fought with the director about it, and now I am bitter." That bitterness didn't prevent Parker's character Nancy Botwin from graphically hooking up with any number of men on the series. We'll pick her passionate skin-slapping session in a bar with Mark-Paul Gosselaar, because, hey, it's Mark-Paul.
Reese Witherspoon
Witherspoon has said that the three-way scene in her film "Wild" caused her to "panic" and "took up a tremendous amount of fear in my mind … Sometimes I was just terrified." Witherspoon was able to put the panic and fear aside convincingly enough to earn an Oscar nomination for the 2014 film.
Also Read: 'Masters of Sex' Star Michael Sheen on His Sex Scene 'Checklist' and 5 Other Emmy Contender Quickies
Kate Winslet
"Titanic" actress Winslet has said of doing nude scenes, "I hate it!  I just get on it. I just go in and say 'Oh f*ck' let's do it,' and boom." Many viewers had a similarly explosive reaction to her full-frontal, splashy encounter with Harvey Keitel in "Holy Smoke."

Vanessa Hudgens
A sex scene with James Franco, uncomfortable? So said former "High School Musical" star Vanessa Hudgens, who said that after filming an erotic sequence with Franco, "I told my agent that I never want to do it again." But Nessie, baby, we'll always have "Spring Breakers."
Kristen Stewart
Former "Twilight" star Kristen Stewart has called sex scenes "grotesquely uncomfortable." And in the case of her get-together with Robert Pattinson in "Breaking Dawn," she's right — that scene was horrible. But Stewart redeemed herself in that department with the big-screen adaptation of the Jack Kerouac beat novel "On the Road," in which she briefly shared a bed with Garrett Hedlund and Sam Riley.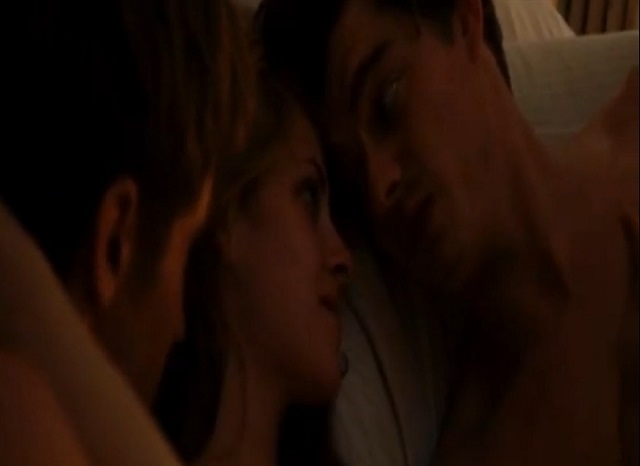 Also Read: Kellan Lutz , Vanessa Hudgens Talk Sex Scenes; Reenact 'High School Musical 2' (Video)
Mila Kunis
"It's hard to have a sex scene, period. It doesn't matter if it's a friend, a male, a female," Kunis has said. "You're with 100-something crew members, lighting you, repositioning you, there's no comfort whatsoever." Which does nothing to detract from the fact that her erotic get-together with Natalie Portman was the best thing about the 2010 ballet thriller "Black Swan."
Eva Mendes
"Love scenes are awful. Let's just say that. They're always awkward," Mendes has said. But plenty of viewers were comfortable with her probing display of sexuality in the 2007 film "We Own the Night."
Adèle Exarchopoulos and Léa Seydoux
The two stars of "Blue Is the Warmest Colour" had plenty to say about their 10-minute sex scene in the film, most of it along the lines of, "For us, it's very embarrassing." For others, the only complaint was that it could have run a little longer.