Steven Spielberg, Ben Affleck, Kathryn Bigelow, Ang Lee and Tom Hooper have been nominated for the Directors Guild of America's top award for feature-film directing, the DGA announced on Tuesday.
Outstanding Directing – Feature Film nominations went to Spielberg for "Lincoln," Affleck for "Argo," Bigelow (left) for "Zero Dark Thirty," Lee for "Life of Pi" and Hooper for "Les Miserables."
In a highly competitive year in which six films appear to be at the top of the awards race, David O. Russell was the odd man out, failing to land a nomination for "Silver Linings Playbook."
Also missing from the list, though they were considered longshots to make it: Michael Haneke for "Amour," Paul Thomas Anderson for "The Master" and Quentin Tarantino for "Django Unchained."
Spielberg, Bigelow, Hooper and Lee are all past DGA winners. Spielberg has won for "Saving Private Ryan," "Schindler's List' and "The Color Purple," Lee for "Brokeback Mountain" and "Crouching Tiger, Hidden Dragon," Bigelow for "The Hurt Locker" and Hooper for "The King's Speech." Affleck is the only first-time nominee in the group.
Spielberg's nomination added to the record he already held for the most noms in the seven-decade history of the DGA Awards. He now has 11 nominations and has won three times, also a record.
Typically, four of the five DGA nominees go on to receive Oscar nominations. Since 2000, the DGA has matched all five Oscar nominees twice, four out of five eight times and three out of five twice.
The DGA is an even more accurate predictor of Oscar wins. In the 64-year history of its awards, 58 of its winners have gone on to take the Academy Award for Best Director. The last nine consecutive DGA winners have also won the Oscar.
There has never been an Oscar-winning director who did not also receive a DGA nomination.
The Directors Guild is the last of the major Hollywood guilds to announce its nominees. With the DGA noms now in, two films — "Lincoln" and "Argo" — have received what are essential best-picture nominations from the Directors, Producers and Writers Guilds, as well as an ensemble-cast nomination from the Screen Actors Guild.
"Les Miserables" was nominated by the PGA, DGA and SAG, but was ineligible for the WGA Award. "Zero Dark Thirty," which was released late in the SAG voting period and did not send screeners to the nominating committee, was nominated by the WGA, PGA and DGA, but only received an individual nomination for Jessica Chastain from SAG.
"Silver Linings Playbook" and "Life of Pi" have also been recognized by three of the four guilds, with "SLP" missing a DGA nom and "Pi" not receiving any SAG honors.
The nominees with their directorial teams, from the DGA press release: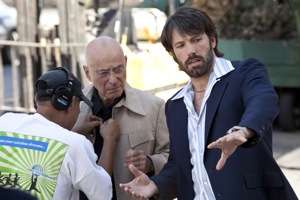 BEN AFFLECK
"Argo"
(Warner Bros. Pictures)

Directorial Team:
Unit Production Manager: Amy Herman
First Assistant Director: David Webb
Second Assistant Director: Ian Calip
Second Second Assistant Directors: Clark Credle, Gavin Kleintop
First Assistant Director (Turkey Unit): Belkis Turan
KATHRYN BIGELOW
"Zero Dark Thirty"
(Columbia Pictures)

Directorial Team:
Unit Production Manager: Colin Wilson
First Assistant Director: David A. Ticotin
Second Assistant Directors: Ben Lanning, Sarah Hood
First Assistant Director (Jordan Unit): Scott Robertson
Second Assistant Directors (Jordan Unit): Jonas Spaccarotelli, Yanal Kassay
Second Second Assistant Director (Jordan Unit): Tarek Afifi
Unit Production Manager (India Unit): Rajeev Mehra


TOM HOOPER
"Les Misérables"
(Universal Pictures)

Directorial Team:
Unit Production Manager: Patrick Schweitzer
First Assistant Director: Ben Howarth
Second Assistant Director: Harriet Worth
Second Second Assistant Director: Dan Channing Williams


ANG LEE
"Life of Pi"
(Twentieth Century Fox)

Directorial Team:
Unit Production Manager: Michael J. Malone
Unit Production Manager (Taiwan): Leo Chen
First Assistant Directors: William M. Connor, Cliff Lanning
Second Assistant Directors: Robert Burgess, Ben Lanning
Unit Production Manager (India Unit): Sanjay Kumar
First Assistant Director (India Unit): Nitya Mehra
Second Assistant Director (India Unit): Ananya Rane
Second Second Assistant Directors (India Unit): Namra Parikh, Freya Parekh
Second Assistant Directors (Montreal Unit): Derek Wimble, Renato De Cotiis

STEVEN SPIELBERG
"Lincoln"
(DreamWorks Pictures/Twentieth Century Fox)

Directorial Team:
Unit Production Manager: Susan McNamara
First Assistant Director: Adam Somner
Second Assistant Director: Ian Stone
Second Second Assistant Directors: Eric Lasko, Trevor Tavares