With such a strong year behind us, it was tempting to make a Best 10 list for 2013 and leave it at that. But what's the point in praising the good if we're not also calling out the bad? The Worst of 2013 includes both people who should know better and repeat offenders, artists with a vision and hucksters out for a quick buck.
Here's hoping the responsible parties resolve to do better in 2014.
10. "Escape from Planet Earth"
I remember plot details of "R.I.P.D.", but I can not for the life of me tell you anything about this movie, except that it involves aliens, and that the kids in the Friday morning screening I attended were so bored that they went down to the front of the theater en masse to play and run around in front of the screen rather than watching the film.
9. "Adore"
"I did not know I was making a comedy," the director of this film said onstage at Sundance after many of us in the audience giggled, tittered, snorted, chuckled and outright guffawed our way through this silly softcore romp about two lifelong pals (played by Naomi Watts and Robin Wright) who engage in sexy sex with each other's bronzed-surfer-god sons. Based on a short story by Doris Lessing!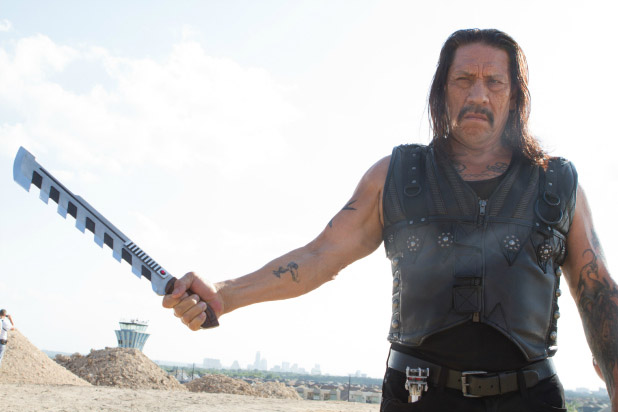 8. "Machete Kills"
All this Robert Rodriguez sequel (to a movie that started life as a fake trailer) had to be was fun, no matter how stupid, and it couldn't even manage that.
Also read: Best & Worst 2013: Alonso Duralde's Top 10 Movie Picks (Video)
7. "A Good Day to Die Hard"
In a year of painful sequels ("The Hangover Part III" or "Scary Movie V," anyone?), this fifth adventure of John McClane represented the sharpest drop from first installment — a film that, 25 years later, remains one of the great action movies and great Christmas movies of all time — to latest chapter.
6. "Tyler Perry's Temptation: Confessions of a Marriage Counselor"
I will defend the humor of Madea, but when Tyler Perry puts on his church shoes and starts sermonizing about sexuality in his best 1951 shame-and-blame mentality, that's something else entirely. In this typically lead-footed Perry affair, a straying Good Girl gets struck with The AIDS as retribution for giving in to sin. Moralizing has rarely been this unintentionally hilarious.
5. "Girl Most Likely" / "The To-Do List" / "Admission" / "The Incredible Burt Wonderstone"
The next time you look at a movie poster with lots of your favorite actors on it and think, "Well, with these people in it, how bad could it be?" just remember the above-listed films, along with the answer, "THIS bad."
4. "Jack the Giant Slayer"
When the beanstalk is more compelling than Jack in an adaptation of "Jack and the Beanstalk," something has gone terribly wrong. Can we please call for a moratorium on movies featuring storybook characters wielding swords, unless those characters were already wielding them in the original tale?
Also read: Best & Worst 2013: Movie Moments of the Year – '12 Years a Slave,' 'Nebraska' and Yes, 'Safe Haven'
3. "Austenland"
Bad dramas can be funny, but bad comedies just suck the life right out of you. Despite an amusing premise — love-starved American girls travel to a resort where they can pretend to be Jane Austen heroines — this stupid and ugly slog has all the biliousness and absence of comic timing that marked first-time director Jerusha Hess' previous screenwriting effort, the toxic "Gentlemen Broncos."
2. "The Internship" / "Delivery Man"
Come back to the five and dime, Vince Vaughn, Vince Vaughn.
1. "Grown Ups 2"
The Adam Sandler Death of Cinema Fun Factory chugs along with a movie that feels even more tossed-off and despicable than "Jack and Jill" or "That's My Boy." Between the shameless product placement, the thoroughly lazy writing and performing, and its simultaneous excoriation of and participating in bullying, it sits comfortably at the very bottom of the 2013 barrel.