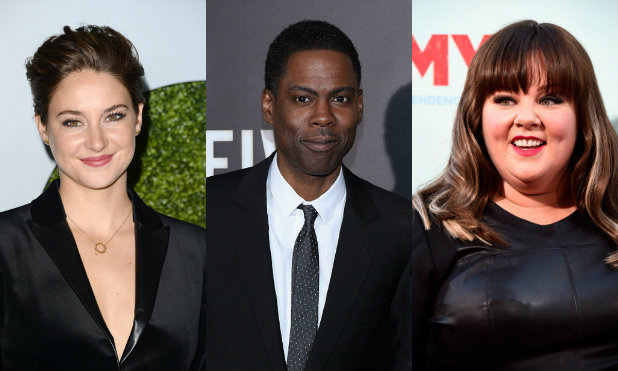 'Tis the season for awards, and while voters are busy weighing the merits of top Oscar contenders, the industry's intangibles have fallen by the wayside. The year in film is comprised of so many movie moments and overlooked details that go unrecognized by Hollywood, so here's a list of superlatives and unconventional awards that serve as an alternative to the prim-and-proper Oscars. There's even more ground to cover than last year, so let's get started …
MOVIES
Best Animal Title: Gold: "Birdman" Silver: "The Dog" Bronze: "Foxcatcher" Honorable Mention: "Big Bad Wolves"
Best Movie Set Primarily in One Location: "Locke," Tom Hardy's Car Runner Up: "Citizenfour," Edward Snowden's hotel room
Best Party: Every party Delta Psi throws in "Neighbors" … especially the Pot Party – Thanks for the invite, Zac!
Best Get-Together: Chris Rock hanging with Rosario Dawson, Tracy Morgan, Jay Pharaoh, Leslie Jones, Michael Che, Sherri Shepherd and more in "Top Five"
Best Low-Budget Movie That REALLY Didn't Cost a Lot: "Blue Ruin" – To Michael Bay, "Pain and Gain" is a low-budget movie, but even with a sliding scale that's an affront to the term. Young filmmakers should watch this revenge thriller and take notes. This is how you jump-start a career.
Funniest Comedy: "Top Five"
Least Funny Comedy: "Are You Here" – Don't quit your day job, Matthew Weiner!
Best Adaptation of a Popular YA Book Starring Shailene Woodley: "The Fault In Our Stars"
Worst Adaptation of a Popular YA Book Starring Shailene Woodley: "Divergent"
Also Read: Top 5 Media Losers of the Year: TheWrap's Best & Worst 2014
Best Remake: "The Town That Dreaded Sundown"
Worst Remake: "RoboCop"
Best Sequel: "22 Jump Street"
Worst Sequel: Gold (tie): "Transformers: Age of Extinction" & "The Amazing Spider-Man 2" Silver (tie): "The Hunger Games: Mockingjay – Part 1" & "X-Men: Days of Future Past" Bronze (tie): "Horrible Bosses 2" & "Dumb & Dumber To" Dishonorable Mention: "Sin City 2: A Dame to Kill For"
Worst Vanity Project: "Tammy"
Best Food: "Chef" – I'm hungry. Where's Jon Favreau's truck when you need it?
Worst Food: "Snowpiercer" – Anyone else having "Soylent Green" flashbacks?
Finger Food: "The Interview" – Didn't see that coming… let alone three times!

No Food: "Unbroken" – At least the craft services budget was low!

Also Read: 15 Movies You Already Forgot About: TheWrap's Best & Worst 2014 (Photos)

Biggest Headscratcher: The 12-step finale of "A Walk Among the Tombstones" – God, grant me the serenity to accept the things I cannot change and the courage to overlook this film's fatal flaw.

Biggest Waste of a Great Title: "Sex Tape" – This wonderful movie title deserved a better movie.

Most Overrated Movie: "The Imitation Game" – Yeah, I said it. Sorry, Harvey!

Most Underrated Movie: "Blood Ties" – This '70s throwback deserved a better fate. Clive Owen and Billy Crudup are excellent as brothers on opposite sides of the law.

Best Reveal: Tom Hardy is actually a bad-ass in "The Drop" – Didn't see that one coming!

Worst Reveal: The final scene of "Enemy" – Huh?

Biggest WTF?! Moment – The end of "Under the Skin"

Best Media Comeback – "Noah" – The press lined up to poop on Darren Aronofsky's Biblical epic but the director got the last laugh, because his movie happened to be pretty damned good. I swear to God!

The Guilty Pleasure Award: "Tusk" – This movie has its haters, and I won't argue with them, but to me, this is a cult classic and a future staple of the Midnight Movie genre.

Also Read: Axed Shows of 2014: The Ratings That Got Them Canceled

The Surprisingly Not Terrible Award: "The Purge 2: Anarchy" Runner Up: "Men, Women & Children"

Best Drug Scene: "A Field in England" – Magic Mushroom Scene Runner Up: "22 Jump Street" – The Bad Trip – Judge for yourselves below.




Toughest Scene to Watch: Julianne Moore Forgets Where Her Bathroom Is, "Still Alice" – The whole movie is tough to watch because it's unbelievably sad to watch someone's memory fade away, but there's no sadder scene than watching a grown woman pee her pants. Great performance in a movie I don't think I'd be able to handle again.

Most Quotable Line: Gold: "If you want to win the lottery, you have to make the money to buy a ticket." – "Nightcrawler" Silver: "When it feels scary to jump, that is exactly when you jump." – "A Most Violent Year" Bronze (tie): "I'm the motherfuckin' man in Houston, dawg." – "Top Five" and "Most of my friends will call me 'Eagle' or 'Golden Eagle.'" – "Foxcatcher"

Best 2015 Movie Trailer: "Mad Max: Fury Road" – Holy. Crap. I'm already in line.

MUSIC

Best Soundtrack: "The Guest" – Sorry "Jersey Boys," I love the Four Seasons too, but this was 2014's "Drive" soundtrack.

Best Song: Hank Levy's "Whiplash" from "Whiplash" - We hear this song countless times in the movie, and if it was a bad song, the movie wouldn't have worked as well. Did any song get more screentime in a movie this year? Sorry Katy Perry, but I doubt it.

Best Drum Solo: Miles Teller, "Whiplash" – Sorry Tanner, turn Neiman's pages!

Also Read: 11 of the Year's Most Scandalous Sports Stories: TheWrap's Best & Worst 2014

Best Karaoke Jam: Bill Hader and Kristen Wiig perform Starship's "Nothing's Gonna Stop Us Now" in "The Skeleton Twins" – These two "Saturday Night Live" alums are welcome to join me at the Brass Monkey anytime.

Best Portrayal of a Real Musician: Chadwick Boseman as James Brown in "Get On Up" – Sorry, Andre Benjamin!

Best Top Five List: Jerry Seinfeld's top five rappers in "Top Five" – The Sugarhill Gang for the win!

PERFORMANCES

Best British Genius: Eddie Redmayne, "The Theory of Everything" – Sorry, Benedict Cumberbatch!

Best Keira Knightley Performance: Gold: "Laggies" Silver: "Begin Again" Bronze: "The Imitation Game"

The Who the Hell Is THIS Guy Award: Jack O'Connell, "Starred Up," "'71," "Unbroken"

Best Final Performance: James Gandolfini, "The Drop"

Best Facial Prosthesis: Steve Carell's Nose, "Foxcatcher" Runner Up: Jennifer Aniston's Facial Scars, "Cake"

Best Twins: Gold: Bill Hader and Kristen Wiig, "The Skeleton Twins" Silver: Ben Affleck and Carrie Coon, "Gone Girl" Bronze: Keith and Kenny Lucas in "22 Jump Street"

Best Single Tear: Miles Teller, "Whiplash"

Best Speech: Gold: Pick a scene featuring Martin Luther King Jr. in "Selma" Silver: John Goodman's "Fuck You"speech in "The Gambler" Bronze: J.K. Simmons' "Good Job" speech in "Whiplash"

Best Al Pacino Impression: Oscar Isaac, "A Most Violent Year" – The torch won't be fully passed until Oscar lands the lead in the "Scarface" remake but it's on its way.

Worst Al Pacino Impression: Al Pacino, "The Humbling" – Hoo-ah!

Worst Accent: Imogen Poots, "She's Funny That Way" – Talk about overdoing it… That Brooklyn accent was thicker than a slice from Ray's Pizza!

Also Read: 15 of Hollywood's Most Epic Fails, Flubs and Flameouts: TheWrap's Best & Worst 2014

Best Chemistry: Gold: Miles Teller & Analeigh Tipton, "Two Night Stand" Silver: Daniel Radcliffe & Zoe Kazan, "What If" Bronze: Rosemarie Dewitt & Dennis Haysbert, "Men, Women & Children"

Best Child Performance: Gold (tie): Ellar Coltrane, "Boyhood" & Jaeden Lieberher, "St. Vincent" Silver (tie): Josh Wiggins, "Hellion" & Rohan Chand, "Bad Words" Bronze (tie): Mackenzie Foy, "Interstellar" & Jude Swanberg, "Happy Christmas"

Coolest Old People: Earl Lynn Nelson & Paul Eenhoorn, "Land Ho!"

Best Friends: James Franco and Seth Rogen, "The Interview" – For the second year in a row, Rogen takes home this award. I was genuinely moved when he and Franco looked each other in the eyes and said "I love you."

Best Couple: Gold: Shailene Woodley and Ansel Elgort, "The Fault In Our Stars" Silver: Eddie Redmayne and Felicity Jones, "The Theory of Everything" Bronze (tie): Keira Knightley and Sam Rockwell, "Laggies" & Seth Rogen and Diana Bang, "The Interview"

Worst Couple: Emma Stone and Colin Firth, "Magic in the Moonlight" – This "romance" made me uncomfortable.

The Couple Who Are Made For Each Other, For Better or Worse: Ben Affleck and Rosamund Pike, "Gone Girl" – Whether this was a match made in heaven or hell, these two were pretty perfect for each other.

Best Third Wheel: Charlie Cox, "The Theory of Everything" Runner Up: Jonah Hill, "22 Jump Street" – Cox was the very definition of a third wheel as Jonathan Hellyer Jones, the man who pines for Jane Hawking and can only watch as she stays by her husband's side for years. Meanwhile, Channing Tatum's bromance with Wyatt Russell in "22 Jump Street" relegated Hill to third-wheel status and he did a great job playing the other brother.

Best Cult Leader: Gene Jones as Father in "The Sacrament" – Don't drink the Kool-Aid!

Best Dictator: Randall Park as Kim Jong-un in "The Interview" – Margaritas, nuclear weapons and a butthole. What more could one man need?

Best Domestic Terrorist: Jesse Eisenberg, "Night Moves" – I can't wait to see his take on Lex Luthor.

Best Journalist: Gold: Roger Ebert of the Chicago Sun-Times, "Life Itself" Silver: Glenn Greenwald of The Guardian, "Citizenfour" Bronze: Jeremy Renner as Gary Webb of the San Jose Mercury News in "Kill the Messenger"

Worst Journalist: Rosario Dawson as Chelsea Brown of the New York Times in "Top Five" – I forget the first rule of journalism but it probably involves not shtupping your story subjects.

Also Read: OscarWrap: Jake Gyllenhaal, Felicity Jones, Chadwick Boseman, J.K. Simmons Grab The Spotlight

Creepiest Journalist: Jake Gyllenhaal as Louis Bloom of Video Production News in "Nightcrawler" – Remember, he'll never ask you to do anything he wouldn't do himself… and he'll do anything for a good story. 

Best Hero: Iko Uwais, "The Raid 2" – Bill Cosby should hire this guy as his personal bodyguard.

Best Villain: Michael Parks as Howard Howe, "Tusk" – You know you were freaked out when he stood up from his wheelchair.

Worst Psychopath: Idris Elba, "No Good Deed"

Best Vampire: Derek Lee as Derek in "Afflicted"

Worst Vampire: Luke Evans as Vlad in "Dracula Untold"

Best Wrestler: Mark Ruffalo, "Foxcatcher" Runner Up: Channing Tatum, "Foxcatcher" - Sure, Tatum would probably beat Ruffalo in a fight, but you can't underestimate The Older Brother Factor, and Dave Schultz seemed like a more tactical wrestler than Mark.

Worst Wrestler: Steve Carell, "Foxcatcher" - John DuPont was no Hulk Hogan… or even Randy 'The Ram' Robinson.

Best Marshall: Liam Neeson, "Non-Stop" – I'd feel much safer if the guy from "Taken" was on all my flights, drunk or not.

Worst Marshall: Rob Marshall, director, "Into the Woods" – For more, go to the 2:20 mark of the second video here.

Best Hair: Tyler James Williams, "Dear White People" – C'mon, who can compete with that afro? 

Best Performance by an Animal: Digby in "The Interview" – He's killing me with cuteness!

The 'Over the Top' Award: Stanley Tucci, "Transformers: Age of Extinction" – So this is what it's like to be on a completely different page than everyone else in a movie.

SEX

Best Abs: Gold: Zac Efron, "Neighbors" Silver (tie): Chris Pratt, "Guardians of the Galaxy" and Chris Evans, "Captain America: Winter Soldier" Bronze: Dan Stevens, "The Guest" – Guys, what's your secret?

Best Female Nudity: Gold: Emily Ratajkowski, "Gone Girl" Silver: Katherine Waterston, "Inherent Vice" Bronze: Shailene Woodley, "White Bird in a Blizzard" – Thank God for the 'Rewind' and 'Pause' buttons, am I right?

Best Male Nudity: The cast of the HBO movie "The Normal Heart" – Sorry Ben Affleck, but you're no match for Taylor Kitsch and Matt Bomer.

Also Read: Jennifer Lawrence Tops Chris Pratt as 2014's Highest Grossing Actor

Best Kiss: Ben Affleck and Rosamund Pike's Sugar Smooch, "Gone Girl" – Think of the upside-down kiss in "Spider-Man" or the beach kiss in "From Here to Eternity." Caught in a blizzard of powdered sugar, this kiss was the most memorable of the year.

Worst Sex Scene: Cedric the Entertainer's Wet 'N Wild Threesome, "Top Five" – I never want to see this scene again, and yet I couldn't take my eyes away the first time. Absolutely hilarious, especially the sticky aftermath.

Best Sex Addict: Reese Witherspoon, "Wild" – Hey Cheryl, call me!

VIOLENCE

Most Violent Year: 1981, "A Most Violent Year" – 1982 wuz robbed!

Best Fight: "The Raid 2" – Kitchen Fight Scene – Oh. My. God!

Best Death Scene (spoiler alert!): Neil Patrick Harris, "Gone Girl" – It's hard to get blood out of bedsheets. Trust me.

Best Non-Fighting Action Sequence: The car chase in "Nightcrawler" – Buckle up for safety!

Best Battle Scenes: Gold: "Fury" Silver: "American Sniper" Bronze: "Edge of Tomorrow"

Most Fucked Up Shit We Saw All Year: Gold: Justin Long as Mr. Tusk in Kevin Smith's "Tusk" Silver: Two guys eating a dog for $50,000 in "Cheap Thrills" Bronze: A baseball bat hanging out of a guy's face in "The Raid 2"