It was the year in theater when the New York critics continued to genuflect at the altar of British playwrights, they declared war on Matthew Broderick and David Mamet, and the New York Times OD'd in print over "Hamilton."
The Old Grey Lady hadn't shown this much overt lust since Elaine Stritch last played the Carlyle. Which is silly, because 2015 has been a very good year for original musicals, not just this one musical.
Regarding Broderick and Mamet, I found "China Doll" to be better than the playwright's recent efforts, and while I liked the actor's turns in "Nice Work If You Can Get It" and "It's Only a Play," this season's "Sylvia" found me falling off the Ferris Bueller Sr. bandwagon. Herewith are other thoughts on Broadway and off.
The best:
10. "Invisible Thread" Matt Gould and Griffin Matthews turn their real-life romance into a very unusual unrequited love story set in Uganda. It's not "The Book of Mormon," but it's more inspiring and not without its own quirky sense of humor.
9. "The King and I" For any theatergoer who thinks Rodgers and Hammerstein got soft after "South Pacific," director Bartlett Sher proves otherwise. He has the xenophobia coming from all sides, including that of Kelli O'Hara's Tony-winning Anna.
Also Read: 'The King and I' Theater Review: Ken Watanabe and Kelli O'Hara Make a Royal Pairing
8. "A View From the Bridge" Ivo van Hove's extravagant minimalist is on full display. The ensemble, led by Mark Strong, is strong and, oddly enough, could fit into the most traditional staging of Arthur Miller's classic.
7. "Eclipsed" Danai Gurira's harrowing drama takes us inside the compound of three female captives, their "husband" a rebel chief fighting the Liberian government. Lupita Nyong'o made a spectacular New York stage debut earlier this year, and returns when the play opens on Broadway in March.
Also Read: 'Eclipsed' Theater Review: Lupita Nyong'o Shines in Drama by 'The Walking Dead' Star Danai Gurira
6. "The Visit" Worth the wait. Fourteen years after its world premiere in Chicago, John Kander and Fred Ebb's final musical, based on the Durrenmatt play, finally came to Broadway in a pared-down new staging by John Doyle that showed the two legends (and book writer Terrence McNally) at the top of their game.
5. "Barbecue" Robert O'Hara makes it impossible to read another drug-laden memoir without laughing yourself into a coma. The funniest and most inventively structured play of the year, one of many this season about a fractured American family.
4. "Lazarus" Inspired by "The Man Who Fell to Earth," it's the best jukebox musical ever. Ivo van Hove meets David Bowie, with help from playwright Endo Walsh, and the results are as baffling as they are mesmerizing. Michael C. Hall takes a trip to our common inner space.
Also Read: 'Lazarus' Theater Review: David Bowie Revisits 'The Man Who Fell to Earth'
3. "Hamilton" All those articles in the Times aren't wrong. The coverage just needs to be spread around. But yes, Lin-Manuel Miranda perfectly captures in musical form the explosion of a brand new country. Also, it's not all hip-hop and rap.
2. "Hir" Taylor Mac's funny and sobering comedy about an American family in which the men are hanging on to a patriarchal past, while the mother and her transgender son search for something less defined.
1. "The Humans" A family creates their own basement-apartment prison in Stephen Karam's comedy-drama, which examines Americans' current fear of everything and everyone. The year's best play transfers to Broadway, reopening in February 2016. Why critics would prefer plays about the British royals over Mac and Karam's more engaging families is beyond me.
10 Worst

10. "The Audience" At one point in Peter Morgan's play, even Helen Mirren's Queen Elizabeth had to take a nap during her lackluster talks with various prime ministers. Much more watchable but similarly overrated were this year's other royal-family extravaganzas, "King Charles III" and "Wolf Hall."
9. "Therese Raquin" The husband isn't the only one who drowns in Helen Edmundson's over-heated adaptation of Emile Zola's classic novel. Keira Knightley, in her Broadway debut, is the other major casualty.
Also Read: 'Therese Raquin' Broadway Review: Keira Knightley Gets Caught Between Tragedy and Grand Guignol in Debut
8. "Sylvia" Some critics found it despicable that an actress (Ashleigh Ashford) plays a dog in A. R. Gurney's comedy. Worse is Robert Sella playing a woman and Matthew Broderick giving the same weak performance yet again.
7. "Steve" Is same-sex marriage the end of good gay theater? Even Mark Gerrard's put-downs of famous actresses don't land.
6. "On Your Feet!" Imagine "Funny Girl" with Nicky Arnstein being a helpful husband-manager. Emilio and Gloria Estefan pay tribute to themselves for being crossover legends. But whether the songs are salsa-flavored or vanilla-flavored, it's still bubblegum.
5. "Misery" It's Stephen King without suspense or much blood. Bruce Willis made his inauspicious Broadway debut in William Goldman's adaptation.
4. "Gigi" How do you make a story about a courtesan-in-training palatable for modern audiences? Well, you don't hide the fact or cast an actress, Vanessa Hudgens, who'd be perfect for the Julia Roberts role in a musical version of "Pretty Woman."
3. "Amazing Grace" There's an interesting backstory to John Newton's song, published in 1779, but this Christian anthem-laden musical missed it completely.
2. "Dames at Sea" Required viewing for anyone who waxes on about the good old days of Off Broadway when such a puny musical, from 1966, could run for years. It would put Busby Berkeley to sleep.
Also Read: Tony Awards Get New Venue, Air Date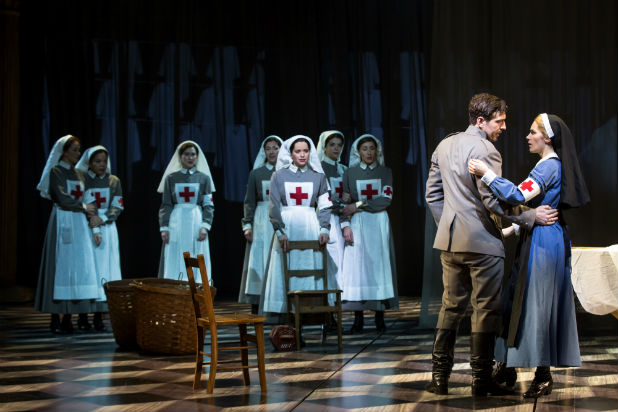 1. "Dr. Zhivago" A show is in deep trouble when the producers have to include the theme song from the movie version. Boris Pasternak's reputation continues its ride into Siberia.