Ready for some hot, steamy, Betty White-on-Betty White action?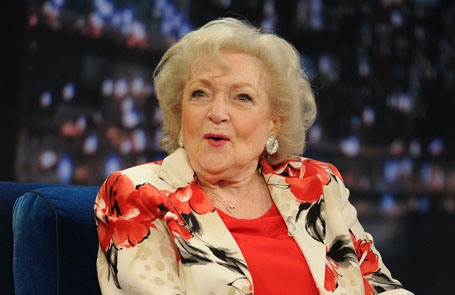 You'll have to wait a long, cold month for it, but it's coming.
Also read: Betty White Blows Off Marine Date Request
"Hot in Cleveland" star White will be all over NBC on Jan. 16, with a 90-minute televised celebration, "Betty White's 90th Birthday: A Tribute to America's Golden Girl," followed by a preview of her hotly anticipated hidden-camera series, "Betty White's Off Their Rockers."
A sort of "Punk'd" for the Geritol set, "Off Their Rockers" will feature White leading "a fearless band of senior citizens to the streets to pull shockingly hilarious pranks on the younger generation," with the "Golden Girls" alum providing "saucy commentary" and sharing "engaging, comical pearls of wisdom." The series, based on the Belgian show "Benidorm Bastards," will be executive-produced by White.
The sneak preview will be preceded from 8 to 9:30 p.m. by "Betty White's 90th Birthday: A Tribute to America's Golden Girl." (White's actual birthday is Jan. 17, but she'll probably be otherwise occupied at Chippendales that night.)
Taped live at Los Angeles' Biltmore Hotel, the special will feature White's co-stars and other famous well-wishers feting the actress with musical performances, special appearances and comedy. Brad Lachman Productions and Universal Television are producing, with Brad Lachman, Jon Macks and Steve Ridgeway serving as executive producers.