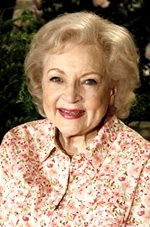 In news that would have been somewhat shocking before a Super Bowl commercial sparked renewed interest in the "Golden Girl," Betty White has nabbed a two-book deal.
White's memoir — "Listen Up!" — is slated for publication early next year on Penguin's Putnam Books.
The 88-year-old has had a big year, hosting "Saturday Night Live" and seeing her sitcom, "Hot in Cleveland," renewed for a second season on TV Land.
According to the publisher, it won a "highly competitive" auction for North American rights. Putnam editorial director Marysue Rucci negotiated the deal with White's agent, Loretta Barrett.
The second book — "The Zoo and I: Betty and Her Friends" slated for 2012 – will "include stories about and photographs of White with animals at various zoos," according to Publishers Weekly. White is a board member of the Los Angeles Zoo and "passionate supporter of animal health and welfare."