Maybe we don't need to wonder who "Becky with the good hair" is.
The day after Beyonce's new visual album, "Lemonade,"  aired on HBO, fans are abuzz over the references to "Becky." In the song titled "Apathy," the singer offers a recommendation to the cheating man in her life — presumably her husband, the rapper Jay Z – singing, "He better call Becky with the good hair."
Now "Becky" may have outed herself as Jay Z's presumed other woman: fashion designer Rachel Roy.
Also Read: 5 WTF Lyrics From Beyonce's 'Lemonade'
Roy, ex-wife of Jay-Z's former business partner Damon Dash, posted a response to the "good hair" comment, seemingly outing herself as the real Becky on her private Instagram page: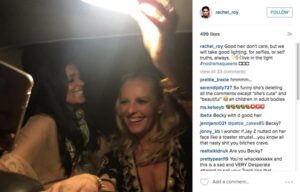 "Good hair don't care," she wrote, adding "but we will take good lighting, for selfies, or self truths, always. live in the light #nodramaqueens." The designer also took to Twitter, and indicated Beyonce is publicly bullying her:
I respect love, marriages, families and strength. What shouldn't be tolerated by anyone, no matter what, is bullying, of any kind.

— Rachel Roy (@Rachel_Roy) April 24, 2016
Rumors have flown about Roy and Jay Z for awhile. Beyonce's sister Solange Knowles reportedly verbally accosted Roy before famously assaulting Jay Z in an elevator nearly two years ago. That incident was famously captured on video.