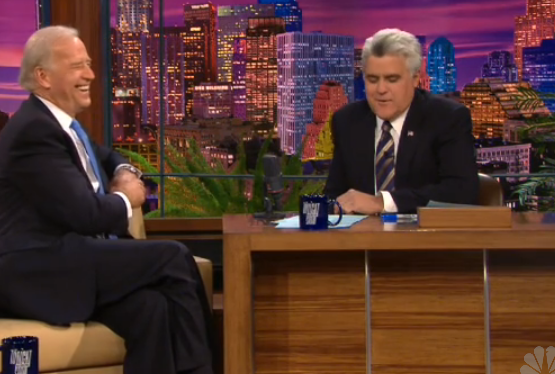 EXCLUSIVE
Vice President Joe Biden held up airplane traffic for hours on Friday night at Los Angeles International Airport after an appearance on Jay Leno 's 'Tonight Show,' leaving restless passengers fuming.
A spokesman for the vice president said he was unaware of the FAA temporary flight restriction that stopped flights coming in, and delayed those going out.
"I know we didn't ask for anything," Biden's spokesman James Carney told TheWrap. "There was no sign of any stoppage. And there shouldn't have been one."
Oh, but there was. Passengers were stuck for anywhere from 45 minutes to four hours as a result (including this writer), leaving many of them fuming. In one LAX terminal, flights on Horizon, Alaska and Virgin Air had three-hour delays.
"I sincerely hope that the vice president was oblivious to the number of lives he inconvenienced by deciding to land at LAX and his attempted humor on the Tonight Show," said Will Roos, the owner of an environmental company GreenUp who was on his way back from a business trip in Sun Valley.
He added: "Just on our small propeller plane it resulted in half the passengers missing their flight, everyone missing their checked luggage, and more than four hours of delay for those lucky enough to make it on the plane."
(Updated Sunday at 12 pm) Another passenger on that flight, Jason Campbell, was similarly upset. The delay resulted in his luggage going missing. "I think that's its appalling that Vice President Biden commandeers such a wide swath of airspace when he travels," Campbell wrote to TheWrap. "Are the American people aware that the VP and presumably the President and who knows who else in the president's cabinet create such significant travel disruption when they travel the country? I sure wasn't aware."
Temporary flight restrictions are common when the top officials in the country travel. FAA spokeswoman Laura Brown confirmed the flight stoppage, but could not give a reason for it other than standard safety practice. She could not confirm how many flights were delayed or for how long.
"We frequently have flight restrictions in place for the president and sometimes for the vice president," she told TheWrap on Saturday. "Yesterday, yes, there were flight restrictions. There was a brief ground hold."
She declined to quantify how long "brief" represented.
A spokesman for LAX declined to comment.
But an internal FAA communication shared with TheWrap time-stamped at 8:30 pm referred to "90 minute delays due to a presidential tfr," or 'temporary flight restriction.'
One official close to the situation said the delay caused directly by Biden was "no greater than 45 minutes, and only for a limited number of flights."
Update: A spokesman for the Secret Service said he was unaware of any great delays as a result of Biden's travel on Friday.
"We regularly fly into large commercial airports. We work with the FAA and everyone involved to minimize the impact we have," said spokesman Edwin Donovan. "Restrictions get put in place when the vice president flys into an airport. There's going to be some impact on flights. But we have no information to show any great delay or any impact at LAX."
The FAA said that the Secret Service usually makes the determination for stopping civilian air traffic. But Carney said he was unaware of any security threats or other reason for stopping civilian flights from flying into the airport from the early evening until Biden mounted Air Force 2 at around 9 pm.
While in Los Angeles, Biden went on The Tonight Show and defended the swapping of four U.S. spies for the 10 recently-exposed Russian ones. He also attended a fundraiser for California Senator Barbara Boxer.
"Last night was one of the few times we've ever pulled up in front of Air Force 2 and just left," Carney insisted. "It was one of the quickest departures I've had in a year and a half in this job."
Update: A private pilot, Jack Williams, wrote to TheWrap that presidential flight restrictions are often disruptive, but little reported on the media. "Since 9/11, every time a President travels a 60-mile diameter no-fly bubble travels with him," Williams wrote, noting that hewas at the National Association of Broadcasters (NAB) convention two years ago when George W. Bush flew into Las Vegas for a fundraiser, triggering 90-minute holding patterns.
"As pilots, we question the efficacy of these TFRs and strongly suspect they are simply 'security theater,'" Williams wrote.