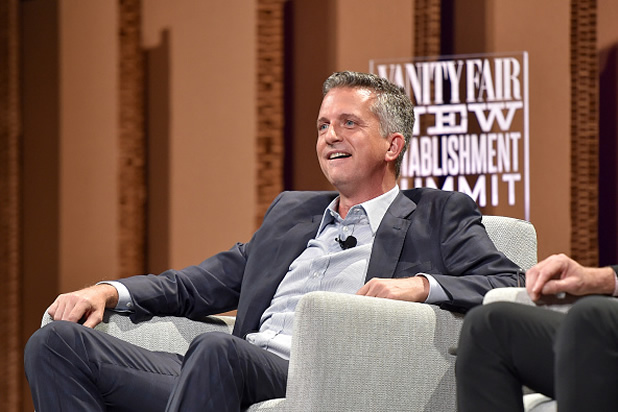 If you consider feuds between media power players to be a spectator sport, the conflict potential for 2016 should already have you salivating. As Bill Simmons prepares to get his next media venture, The Ringer, off the ground later this year, the disdain he has for former employer ESPN will only get more visible. And we know this for sure because Simmons said on his own podcast that after The Ringer launches, "It's going to be more unfriendly."
The platform for Simmons' latest offensive against sports' biggest infotainment empire was Twitter, where Simmons let loose with a flurry of posts taking shots at the popular radio show "Mike & Mike."
Hosts Greenberg and Mike Golic were interviewing Louisville men's basketball coach Rick Pitino, whose program is currently knee-deep in scandal, and Simmons let his 4.8 million followers know how he felt about the Mikes tossing softballs at him despite a raft of allegedly abhorrent behavior going down in his program these days.
Also Read: Bill Simmons Rips ESPN's 'Mike & Mike' Over Softball Rick Pitino Interview
So what is Simmons talking about? Well, in regards to Pitino, he's referring to the current investigation of the Louisville basketball program, which has allegedly been providing recruits with money and escorts at parties in an on-campus dorm. The second scandal Simmons references is likely throwing back to 2009, when Pitino was reportedly being extorted by a woman he'd had an affair with, and who he gave money to for an abortion. While Pitino publicly acknowledged the affair and extortion, he has denied any involvement in the current sex scandal involving teenage basketball recruits.
Also Read: How Bill Simmons Came Up With the Name for His New Website
And all this comes wrapped in the package of Simmons' feud with ESPN. The company ousted him last year following a long period of dispute that spilled over into the media, and Simmons says he only found out about his dismissal via Twitter — much like the staffers at his now-shuttered enterprise Grantland did when ESPN closed the doors on them last October. Grantland was beloved by its dedicated readership, but didn't make a huge profit for ESPN, and after Simmons was fired it fell into disarray before being taken down for good.
Since that time, Simmons has pretty much flourished, signing a production deal with HBO last summer and launching the Bill Simmons Podcast Network in the fall. It has subsequently been downloaded over 30 million times, and The Sports Guy has been as candid as ever about his dislike of the sports giant. Shortly before the "Mike & Mike" dustup, Simmons even said that ESPN personalities are banned from appearing on his show, which seems to be what happens when you call NFL commissioner Roger Goodell a liar, then accuse the network of being in the pocket of a company that owns Sunday.
Also Read: Goodbye Grantland: Inside ESPN's Decision to Kill Bill Simmons' Site
But while it is tempting to see all this tête-à-tête as just cheap thrills — which they most definitely are — the idea that one man could burn his bridge to the Worldwide Leader in Sports and live to tell about it, let alone thrive, is a pretty huge deal. In this age of startups and cultural disruption, Simmons has fashioned himself into a new media maverick, armed and ready to take on The Man. Grantland may not have survived, but The Ringer is Simmons' 2.0 effort at giving long-form journalism life on the Internet in a way we haven't seen … since Grantland! He's brought on a lot of his old writers, and also taken a handful of new female staffers to round out senior editor positions.
The point is, Simmons' attempt to build an empire and blatantly throw it in the face of the establishment is a noble endeavor even if it doesn't succeed. And while his outbursts on Twitter are great public theater — and a nice little piece of PR for his new venture — they're also proof that no one owns Bill Simmons' ideas but Bill Simmons. Grantland feels more and more like it was the warmup round — a beta test, if you will, for what new media and journalism can look like in their best form – and with all that premium cable money behind Simmons this time, it looks like The Ringer might just be crazy enough to work.