"Aside from a brief cameo in Diamond Head (1962), Billie Dove never returned to the movies. She spent her retirement years in Rancho Mirage before moving into the Motion Picture & Television Country House and Hospital in Woodland Hills, California where she died of pneumonia in 1997, aged 94."
If you were to research actress Billie Dove on Google, you would read the above concluding information, and perhaps never know that there was a story behind those words, and that I, as a then Board Member of the Fund, was part of the story.

It began several years before 1997, in Rancho Mirage, one of the desert communities of Southern California. Rancho Mirage is not quite as celebrated as Palm Springs, but it is where my husband and I have a second home and spend many weekends in a pleasant setting for combined work and relaxation.
It was there that I first learned from a friend, who was acquainted with a niece of Billie Dove, that the famous actress of yesteryear was a patient at a local rehabilitation center. It was also mentioned to me that Billie had a strong desire to transfer to the Motion Picture & Television Fund, if that was at all possible.
I took that as a personal invitation to step right in and see what I could do. At that time I was a Board Member, and from time to time I had succeeded in abetting admission for eligible Industry participants. Besides, who wouldn't jump at the chance to see and talk to a true cinematic legend? And if I could start the ball rolling for her to be transferred, so much the better.
My first step was to get in touch with the niece, whose name and telephone number had been given to me by my friend. I called and explained who I was and asked permission to visit her aunt at the Rehabilitation Center. This was arranged, and, a few days later I found myself inside a pleasantly furnished reception area of the Center, which turned out to be only a few miles from my house. I was no stranger to Long-Term Care facilities, my mother having been in one in Los Angeles for many years before her passing.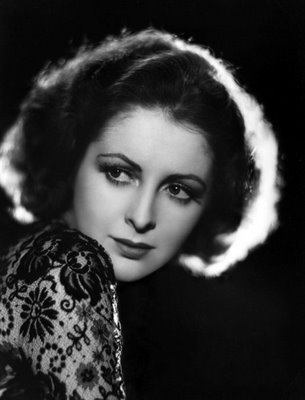 Somehow though, perhaps because of the desert setting, this one seemed sunnier, more cheerful, less institutional-like.
The niece met me, as planned, and took me to her aunt's room. This, too, was pleasant and comfortable looking, but the main feature, of course, was the frail looking woman occupying the single bed, intimations of past beauty still illuminating her face. She greeted me warmly, then put out her hand and I clasped it, more thrilled than I ever imagined I would be to meet in person the Queen of Silent Movies.
She must have been in her early 90s then, but her voice was steady and her mind was focused. The charm was evident. We spoke at length, comparing notes on the movie business then and now. I confess that her end of the conversation far outshone mine. Those early years of Hollywood cinema are known as the Golden Silents, and here was "The American Beauty" (as she was nicknamed) sharing some of her 14-carat memories. We also talked about her wish to be transferred to retirement care at the Motion Picture & Television Fund, where she could be among colleagues from her industry.
"I miss the talk," she said. "This place is very nice, but whenever I mention people like Rod LaRoque or Vilma Banky … or Warren Hymer … or even Ruth Chatterton … El Brendel — all I get are blank expressions or a puzzled "Who???"
I tried to keep my own expression knowledgeable, at the same time resolving to research those names as soon as I could.
"Know what you mean," I said, and promised to look into her transfer by talking to the proper authorities. We said good-bye not on a note of "The End" but, rather, of "to be continued"…
Soon after returning to my home in Los Angeles, I contacted the admitting personnel and urged the consideration of Billie Dove for residency. It was, of course, as they say, a no-brainer. After all the correct forms had been filled out, and a physical evaluation completed, Billie Dove was admitted to the Long-Term Care Facility of the Motion Picture & Television Fund. You see, in those days it was still living up to its motto: We Take Care of Our Own.
And Billie was one of Our Own.
There is a charming Postscript to be added. At that time, one of the residents at the Fund was the celebrated character actor, Hal Riddle. Riddle's fascination with the magic of Hollywood was evident at an early age when he skipped school to attend showings at the local theater. When he was 11, he wrote a letter to silent film actress Billie Dove. She sent him an autographed photo inscribed "Greetings! Billie Dove," which he framed and kept on his wall. He went on to collect more than 1,700 movie-related items, but there was no item more prized in his treasure trove than that photo.
You can imagine his surprise and delight when he leaned that Billie Dove had moved into their community. He walked over to visit her the very next day, and all those years between melted away. Despite Billie's poor health and inevitable signs of aging, through his eyes he saw the same woman in the photo, youthful and extremely beautiful.
As Hal described it, "I could see the essence of her beauty still. I was shaking like a leaf."
Riddle confessed everything to her, including his boyhood crush, his frequent days playing hooky and watching her in adoration and how much the picture still meant to him after so many years. Towards the end of the visit Billie Dove asked if he would like to visit her again.
This he did, almost every day. There are staff members who still remember Hal wheeling Billie around the Home while the two of them exchanged reminiscences of their yesterdays. Hal's admiration and worship of her endured above all, and Billie, I'm sure, felt a deep friendship for the younger man that was very close to love.
Billie died in 1997, and Hal passed on just recently in June of 2009. Together they had lived a love story that was far more poignant, perhaps, than any script conceived for the screen.
Again, in Hal's words: "When you stop and think about it, it seems ironic … You never know when an 11-year-old boy in Kentucky is going to write a fan letter to a star and years and years later get to be her friend. It's a magical wonder."
The true magic and the wonder of it all lay within the walls of the Motion Picture & Television Fund. My dearest hope then — the hope of many, many others — is that the doors of Long-Term Care will remain open, and its corridors will always be warm and welcoming for many, many love stories to come.
… And that, of course, there will always be people there who know the names. Who know Rod LaRoque … Vilma Banky … Warren Hymer … Ruth Chatterton … El Brendel …
And, of course, who know who Billie Dove is.