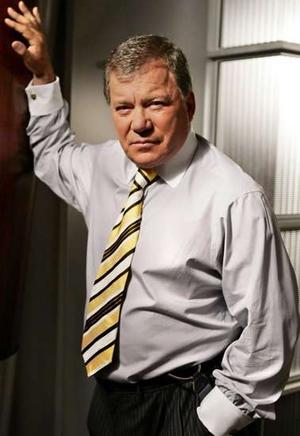 William Shatner may have ceded his big screen role of Captain Kirk to the younger and hunkier Chris Pine, but make no mistake, the legendary scenery chewer is still a big star — at least on the Bio Channel.
The former "Star Trek" captain's interview show "Shatner's Raw Nerve" helped the network record its two most-watched quarters in history. Unsurprisingly, Bio announced at its upfront program on Wednesday that it will bring that show back and has signed on for a new program with the actor "Shatner's Aftermath." "Aftermath" looks at the effects of unknown Americans who became tabloid names such as Bernhard Goetz and Jessica Lynch.
The network will air two other new shows next year "I Survived…Beyond and Back" and "My Ghost Story." "I Survived" will examine people who have been declared dead, but have come back to life. "My Ghost Story" looks at paranormal stories involving everything from apparitions to violent poltergeists.
In addition to the new series, Bio will air four new specials on the making of "Jaws," "The Silence of the Lambs," and "Halloween," as well as a documentary about Ray Charles.
Since shortening the channels name from Biography to Bio last year, the network's audience has grown 10 percents in adults 25-54 and 11 percent in adults 18-49 compared to full year 2009.