We know, your brain is still processing that "Black Mirror: Bandersnatch" trailer. But it wasn't just a preview of the new film — it also contained impressive callbacks to past "Black Mirror" installments.
TheWrap tracked the shout-outs you might have missed while you were singing along with "Relax," the Frankie Goes to Hollywood song played in the trailer. And we'll probably have a million more to highlight when "Bandersnatch" drops on Netflix early Friday, given that Charlie Brooker's anthology series is known for its shared dystopian universe.
The first callback in the "Bandersnatch" trailer is a reference to the Season 4 episode "Metalhead." We see it when young programmer Stefan ("Dunkirk" star Fionn Whitehead) and his boss stand in front of a poster featuring one of the vicious robodogs from "Metalhead." In case the callback is too subtle, the poster text reads "METL HEDD."
Also Read: 'Black Mirror': So What Is a Bandersnatch, Anyway?
Here's a screenshot of that moment, which occurs at the 16-second mark of the trailer:
This shout-out is particularly on the nose, since "Bandersnatch" is directed by David Slade, according to the Korean Media Rating Board, as reported by the Independent. Slade also directed "Metalhead."
The second big "Black Mirror" callback is a blink-and-you'll-miss-it moment that occurs after we learn Stefan is working on a video-game adaptation of a fantasy novel written by Jerome F. Davies, a fictitious author who "went cuckoo and cut his wife's head off."
When Stefan slips a VHS tape labeled "JFD Doc" into his VCR, the TV screen shows a room filled with papers covered in crazed drawings and strange images painted in blood.
Also Read: 'Black Mirror: Bandersnatch' Trailer Reveals Film Will Drop Friday - So You Can 'Relax' (Video)
One of those markings is the infamous symbol from the "Black Mirror" Season 2 episode "White Bear."
Here's a screenshot of that moment, which occurs at the 51-second mark: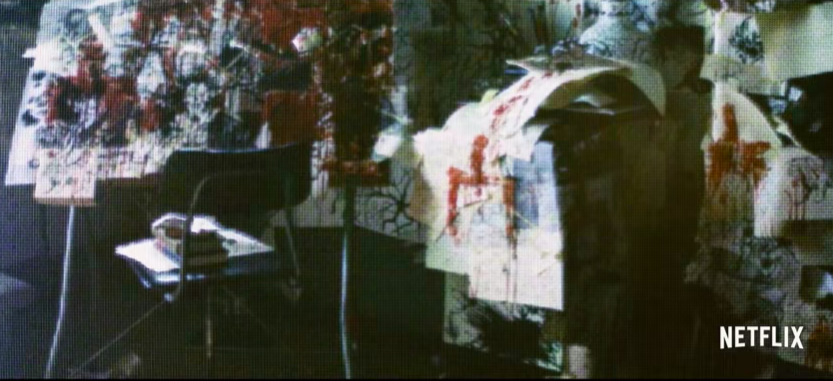 Netflix finally acknowledged the existence of the eagerly-anticipated, but previously-unconfirmed "Black Mirror" film "Bandersnatch" Thursday morning by dropping the surprise trailer, which revealed that the latest installment in the Brooker-created anthology series will drop Friday — as in tomorrow.
The streamer also provided this brief synopsis for the standalone movie, which stars Whitehead, along with Will Poulter and Asim Chaudhry and is widely expected to be a "Choose Your Own Adventure"-style installment: "In 1984, a young programmer begins to question reality as he adapts a sprawling fantasy novel into a video game and soon faces a mind-mangling challenge. Welcome back."
Also Read: All 19 'Black Mirror' Episodes Ranked, From Good to Mind-Blowing (Photos)
You can read more about the "Bandersnatch" trailer here and learn more about what a Bandersnatch is here.
"Black Mirror: Bandersnatch" drops Friday on Netflix.