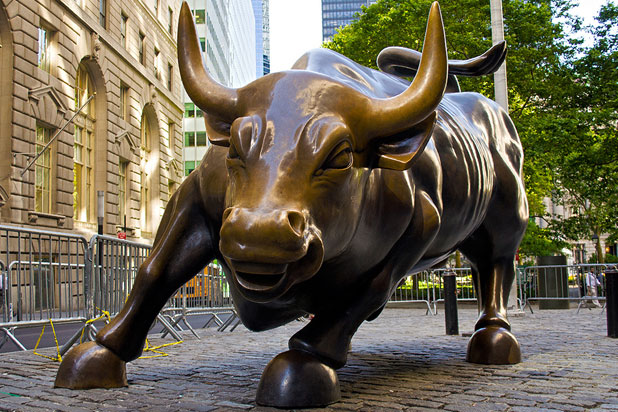 Updated, 7:50 a.m. PT
The Dow Jones shot back up 700 points after opening over 1,000 points down, sitting at a 350 point loss a little before 8 a.m. Hard-hit media stocks like Apple, Netflix, Facebook and Twitter continue to see losses, albeit less so than right after the market opened.
Previously
Wall Street collapsed as the market opened on Monday, down 1000 points to mark what might be the worst one-day point drop in history.
Big media stocks took huge hits as the market opened: Netflix was in freefall with a 17.5 percent drop; Facebook fell 14 percent; Twitter dropped 9.5 percent; Apple sunk 11 percent; Yahoo was off 7.4 percent; Sony fell 8.6 percent; Discovery shrunk 5.4 percent; Disney lost almost 5 percent; CBS fell 3.5 percent; Comcast lost 3.4 percent; and Fox shrunk 8.6 percent.
"Media companies seem to be caught in the crosshairs and may take a bigger hit than everyone else," analyst Alan Wolk told TheWrap.
Also Read: Media Stocks Continue Freefall as Stock Market Sinks 600 Points in a Week
"But the market isn't always rational and I suspect those sell-offs will be followed by a correction a few weeks from now where Disney and other media company shares look like a bargain. Media companies can help themselves now by figuring out how to spin their story once the correction levels off."
Apple CEO Tim Cook attempted to ease investor panic on Monday, citing Apple's strong performance in China.
Also Read: Disney Suffers as Global Market Anxiety Hits Entertainment, Media, Tech Stocks
"I get updates on our performance in China every day, including this morning, and I can tell you that we have continued to experience strong growth for our business in China through July and August," he told CNBC. "Growth in iPhone activations has actually accelerated over the past few weeks, and we have had the best performance of the year for the App Store in China during the last 2 weeks."
The media sell-off–the third in recent weeks–comes as companies respond to the market's overall concern over China's economic downturn and its affect on the U.S. economy. Media stocks are also being hit because of concerns over cord-cutting and its negative impact on traditional pay-TV.