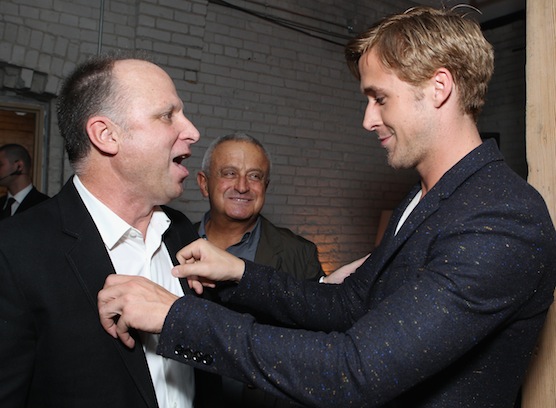 Bob Berney is leaving his second film company in two years, exiting the new indie distributor FilmDistrict on the heels of the disappointing opening of "The Rum Diary."
Berney and his wife Jeanne both exited the indie distributor Apparition in May 2010.
Berney joined FilmDistrict as the president of distribution, with Peter Schlessel as CEO, shortly thereafter.
A company spokeswoman announced it was eliminating its New York office, and that the Berneys chose not to relocate. The 20-person office in New York is being shut down.
Jeanne Berney will depart as the executive vice president of marketing. Both will continue with the company through March 1, 2012.
Also read: Grilled: Peter Schlessel and Bob Berney on Taking the Indie Plunge
The move raises the question of what the future holds generally for FilmDistrict, one of a few independent film distributors to take the plunge in a hazardous market.
Berney, a respected figure in the indie world, had been with FilmDistrict since its launch in Sept. 2010. He oversaw the roll-out of several high-profile projects.
"Drive" earned critical raves at Cannes and has been a solid box office indie hit.
"Insidious" and "Soul Surfer" were low-budget hits for the company, but its latest film, "Rum Diary," debuted last week to a mere $5 million. Starring Johnny Depp, it cost $45 million.
And some observers in the indie industry noted that Berney spent heavily on marketing, mitigating the wins at the box office.
Berney's exit comes as the company consolidates its marketing operations to Los Angeles. He said he would prefer to remain in New York.
Employees in New York have been told they can remain in their current positions until the end of the year. FilmDistrict's Los Angeles office will consist of 10 employees after the consolidation.
"While I believe in the strategy of FilmDistrict, I remain committed to my roots and family in New York where there is a vibrant film community," Berney said in a statement.
Berney made headlines when he abruptly quit the company he founded, Apparition Films, just before the start of the 2010 Cannes Film Festival. He soon began working with Graham King, who launched FilmDistrict several months later with Berney heading distribution and Schlessel overseeing acquisitions.
The original plans called for FilmDistrict to release between four and eight films theatrically each year.
Berney's indie film experience includes stints at IFC Films, which he launched, and Newmarket Films. Before launching Apparition, he was head of Picturehouse, a now-defunct partnership between HBO and New Line Cinema created to release specialty films.