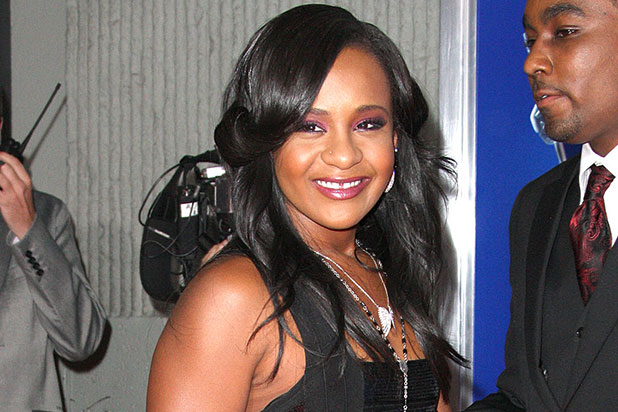 Bobbi Kristina Brown spent her final moments on Sunday surrounded by close family members in prayer, with music by her late mother Whitney Houston playing in the background.
Before she died, her father Bobby Brown, Pat Houston, Pat's brother Ray Watson and her sister-in-law Donna Houston, Gary Houston, conservator Bedelia C. Hargrove and other family members joined together in prayer at the Atlanta, Georgia, hospice. They then sang hymns together following the 22-year-old's death.
As they waited for a minister to arrive, they read together from the Bible, specifically from Psalms 23: "The Lord is my shepherd; I shall not want," according to "Entertainment Tonight." The group then repeated "Hallelujah" as Bobbi Kristina took her last breath at 8:17 p.m. ET. It was very peaceful, quiet and beautiful, a family member told "ET," and it was as if Whitney was calling her from the other side.
Also Read: Bobby Brown Is 'Completely Numb' Over Bobbi Kristina's Death
"It is hard to say goodbye. On Sunday, July 26, Bobbi Kristina Brown made her transition peacefully," the Houston family later wrote in a statement on Whitney's official website. "The family thanks everyone for their loving thoughts and prayers. As Bobbi Kristina would say: 'The wind is behind me and the sun is in my face.'"
Her death followed months of medical treatment after she was found face down and unresponsive in a bathtub at her Roswell, Georgia, home on Jan. 31.
Also Read: Dionne Warwick on Bobbi Kristina Brown's Death: 'She's in Much Better Hands Now'
Bobbi Kristina Brown was rushed to North Fulton Hospital in Roswell, placed in a medically induced coma and connected to a ventilator. She was later transferred to Emory University Hospital in Atlanta and spent her final days at a rehabilitation center before being moved to hospice care.
The close family members present on Sunday had been watching over Bobbi Kristina ever since she was first hospitalized, often traveling 60 miles to be with her every day — to do her hair, bathe her and make sure she was never alone.
Also Read: Bobbi Kristina Brown's Death Is 'an American Tragedy,' Whitney Houston Biography Author Says
Filmmaker and longtime friend Tyler Perry was also at the family house Monday morning to pay his respects, and Houston's cousin Dionne Warwick told Andy Cohen that "she is in much better hands now," on Sunday's "Watch What Happens Live."
A preliminary autopsy did not identify any obvious underlying cause of death. It also did not reveal any "significant injuries" or previously unknown medical conditions that could have contributed to her death, according to a statement from the Fulton County, Georgia, Medical Examiner's Office.
Meanwhile, Brown's funeral is tentatively set for Thursday, July 30, in the Atlanta area, according to a report published Monday by "Entertainment Tonight."