Riding a major wave of promotional support, Lady Gaga's "Born This Way" became a monster hit out of the gate Monday.
With Amazon, Best Buy and Starbucks practically giving it away, Gaga's sophomore studio album could very well reach the elusive 1 million mark during its debut week.
Its first day on sale, high demand pushed several online retailers past their technological breaking point, with Little Monsters, as Gaga's fans are known, complaining of delays at Apple's iTunes Store and Amazon.
Also Read: Lady Gaga's 'Born This Way' Promo Brings Amazon to Its Knees
There were plenty of deals for fans to go gaga over: "Born This Way" could be had for nothing at Best Buy (with the purchase of a phone), for 99 cents at Amazon and streamed for free in its entirety at Starbucks.com, with an ownable download of her single, "The Edge of Glory" also thrown in at no charge.
But even at iTunes, where a bonus track digital edition goes for $15.99, her Little Monsters bought enough copies to dethrone Adele, whose digital-chart-topping album, "21," had reigned for a month.
Amazon used the one-day 99-cent gambit to lure Gaga fans to its Android-powered Cloud Drive service at the expense of Apple, whose cloud offering is expected to launch any day now.
Cloud services enable music customers to store digital tunes that they've just purchased or already own on massive servers. They can then stream the music to smartphones or computers from anywhere over broadband.
Amazon, which is selling physical CDs of "Born This Way" for $8, could not be reached for comment on the number of albums it sold. Representatives did, however, acknowledge that demand put a strain on the service.
Also read: TheWrap's Gaga, Inc. series:
Why Lady Gaga's 'Born This Way' May Save the Music Industry
Brand Theft Gaga: Meteoric Fame, Done the Madonna Way — Exactly
Over at Apple's iTunes Stores, a technical glitch triggered a virtual revolt in the wee hours Monday morning. One iTunes user with the handle "goof4life" declared on an Apple.com discussion board that he'd opted for Amazon: "iTunes dropped the ball on this one and Amazon's deal blows them out of the water."

Not to worry, though: By 4 p.m., another user in tornado territory reported success and plans to "listen to the album after [the storm] passes."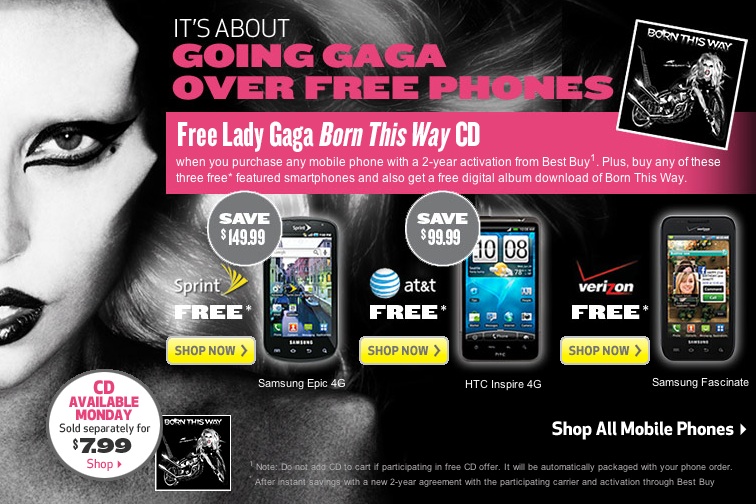 To fetch a free CD of "Born This Way" at Best Buy, customers were required to purchase any mobile phone with a two-year service plan. Purchasing one of three smartphones — Samsung's Epic 4G on Sprint; HTC's Inspire 4G on AT&T; or Samsung's Fascinate on Verizon Wireless — netted the buyer a CD and digital copy of the album.
Best Buy representatives weren't immediately available for comment on the briskness of today's Gaga-related purchases.
A stroll from Best Buy to a (undoubtedly) nearby Starbucks would also yield a Gaga reward. There, streaming the album and the free download of "The Edge of Glory" would cost you … Well, it depends on the combo of coffee, espresso, syrups and serving size.