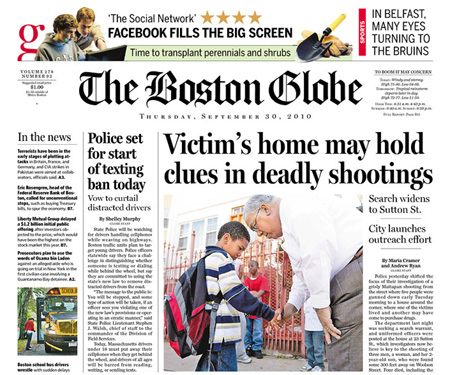 The New York Times Company-owned Boston Globe announced on Thursday that it plans to launch a paid website — BostonGlobe.com — in the second half of 2011.
Boston.com — its current website — will continue to be free.
It's a slightly different paid content strategy than the one the New York Times has planned for its website in early 2010. The Times' so-called paywall is set to launch in early 2010.
The Globe's plan amounts to what it's calling a "two-brand" attack.
Boston.com will offer daily local news, sports, weather, and local restaurants and nightlife guides and classified. Content that is also published in the Boston Globe newspaper "will be limited."
BostonGlobe.com will be introduced as a subscription-based site that "contains all news and feature stories, commentary, analysis, photographs and graphics published in the daily and Sunday newspaper." It will "offer a bold, elegant format that approximates the feel of a newspaper or magazine and allows the best possible experience for reading the Globe's high-quality journalism."
Subscribers to the print edition will receive a free subscription to the site. In the fourth quarter of 2010, the paper plans to "reintroduce" user registration on the Boston.com site, so advertisers can better target its visitors.
Like the Times, the Globe has not announced what pricing for a digital subscription will be.
"Today we are embarking on a new and pioneering approach to our digital future," Globe publisher Christopher Meyer wrote in a memo to employees.
"Our research shows that Boston.com currently attracts several different types of users," Meyer said. "Some readers whose main interest is breaking news and things to do, while others want access to the entirety of the Boston Globe. These two distinct sites will allow us to serve both types of readers."
It's worth noting that the Globe won't be the first New York Times Co.-owned newspaper in Massachusetts to charge for content online. In August, the Worcester (Mass.) Telegram & Gazette announced that it would begin to charge visitors who view more than 10 local news articles per month.