Attendance at the box office is in danger of dropping to numbers not seen since the days of "Jurassic Park."
Thanks to the weakest summer numbers since 2006, a strong first quarter for the 2017 box office has turned into a six percent year-to-date drop compared to 2016. It's a gap so big that it's considered unlikely that the total domestic revenue by year's end will match the $11.3 billion made last year; in fact, one analyst told TheWrap that reaching $11 billion flat would be quite an achievement if films like "Star Wars: The Last Jedi" can get it there.
But even if it reaches that amount, the number of tickets sold this year could drop as low as 1.22 billion. That figure would be the lowest since 1992, according to Box Office Mojo. The estimated ticket total is calculated by dividing the total annual revenue against the national average movie ticket price, which Mojo has set at $8.89, up from $8.65 last year.
Also Read: Fall Box Office Preview: After Summer Crash, Can A Strong Season Save 2017?
The good news in the short term is that the box office has seen similar attendance drops on two previous occasions in the past decade and has been able to rebound. In 2011, attendance dropped to 1.28 billion, and in 2014, it dropped to 1.26 billion. In each instance, business picked back up the following year thanks to films like "The Dark Knight Rises" and "Star Wars: The Force Awakens." 2018 should provide a similar rebound with films like "Star Wars: Han Solo," "Deadpool 2," and "Ralph Breaks The Internet." Oh, and like those rebound years, 2018 has an "Avengers" film on its slate.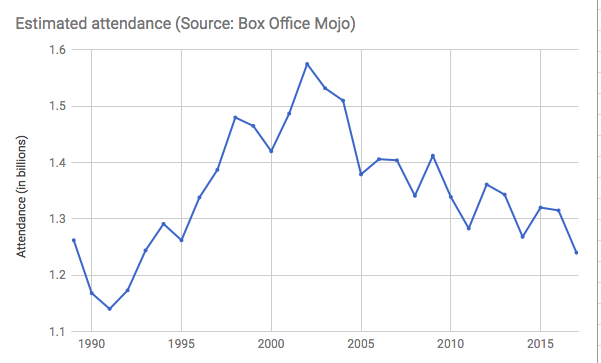 But long-term, even a 2018 rebound won't stop the downward trend in attendance that movie theaters have seen over the past decade. With ticket prices steadily increasing and consumers flocking to at-home options like streaming and popular TV shows like "Game of Thrones," only a handful of films each year have been able to retain must-see status. Even as premium formats and theater offers keep total revenue on an upward trend, the final attendance total for 2017 could be as much as 20 percent down from the industry high of 1.57 billion reached 15 years ago.