Punk. Genius. Billionaire. Two-time box-office champion.
Sony's Mark Zuckerberg biopic "The Social Network" held off a flurry of lukewarm competition in weekend two, grossing $15.5 million to win the domestic box office again.
Dropping just over 30 percent from its debut weekend, "Social Network" beat out Warner Katherine Heigl movie "Life as We Know It," which grossed on the low side of its pre-release tracking, scoring $14.6 million.
In third place, Disney sports movie "Secretariat" matched its lukewarm estimates, grossing $12.6 million.
One other wide release, Rogue-produced, Universal-distributed Wes Craven movie "My Soul to Take," matched its downer tracking, bringing in an estimated $6.9 million.
Here's the the top 10. Full report continues below chart: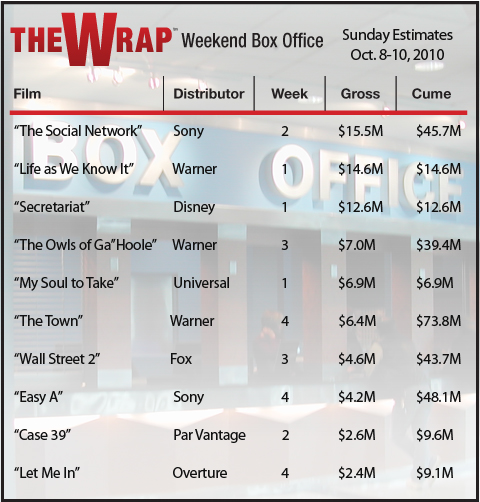 With the overall domestic box office down an estimated 17 percent from the same weekend last year, when Universal's "Couples Retreat" led the frame, Sony distribution chief Rory Bruer said "The Social Network" broadened its moviegoer pull beyond the big coastal cities.
"We got great holds this week in places like Wichita," he said.
Shot for under $40 million, the David Fincher-directed, Aaron Sorkin-penned "Social Network" has grossed an estimated $45.7 million after two weekends.
For its part, Warner's PG-13-rated "Life as We Know It" just undershot tracking in the $15 million-$18 million range.
The film was co-produced by Village Roadshow and Gold Circle Films at a cost of around $38 million.
"Life as We Know It" stars Heigl alongside Josh Duhamel as a couple who plunge into parenthood when they adopt a young daughter. Reviews have been pretty awful, with Rotten Tomatoes scoring the movie at 29 percent.
Finishing in third place, Disney's "Secretariat" matched what turned out to be some pretty tepid tracking. On the bright side, the biopic about the eponymous 1973 triple crown winner — which co-stars Diane Lane, John Malkovich and a large race horse — got an A grade from movie customer satisfaction grader Cinemascore.
And as Disney notes, it played well in Kentucky.
"Secretariat" came in with a production budget of around $35 million.
Meanwhile, it October continues to present a punishing pre-Halloween season for distributors of horror flicks, with "My Soul to Take" — Craven's first 3D film — enduring a soft opening a week after Paramount Vantage's "Case 39" and Overture's "Let Me In" barely moved the needle.
The good news for 3D cheerleaders: 86 percent of the movie's grosses came from 3D!
The film opened at 2,572 locations in the U.S. (Canada's Alliance Entertainment covered distribution in the Great White North), with 75 percent of theaters showing the movie in 3D.
"My Soul to Take" came in with a production nut of around $25 million.
Also debuting semi-wide this weekend, Focus' "It's Kind of a Funny Story" opened to an estimated $675,000, playing at 742 locations.
Among holdovers, Warner's 3D-animated "Legends of the Guardians: The Owls of Ga'Hoole" continued to compensate for its floundering debut two weeks ago, dropping under 40 percent to $7 million.
The $80 million movie has now grossed $39.4 million in North America.
In its fourth weekend, Sony's Ben Affleck-directed caper film "The Town" only around 35 percent, grossing $6.4 million. It's cumulative total has reached $73.8 million.