Saturday update:
It's as if the Grim Reaper himself reached out and tapped Warner/New Line's Final Destination franchise, with the fifth well-reviewed installment of the decade old series way under-performing pre-release projections and grossing just $7.3 million Friday, according to studio estimates.
That puts the $42 million R-rated horror sequel on pace for less than $18 million this weekend — most pre-release estimates outside the studio fell in the $25 million – $30 million range.
Maybe, after the fourth Final Destination movie rode a challenged script to a huge $186.2 million global box-office over-performance in 2009, it was fate?
Fox's "Rise of the Planet of the Apes" is down a very standard 50 percent-plus this weekend from its big debut weekend, but the origins-themed sequel grossed $8.1 million Friday and will likely win the weekend with around $26 million. It also looks poised to pass the century mark in domestic revenue after two weekends.
DreamWorks/Disney's "The Help," meanwhile, grossed an estimated $7.6 million Friday. It probably won't meet three-day weekend forecasts of around $25 million. But the best-seller adaptation — which premiered Wednesday — will have more than $30 million in the bank by the end of Sunday.
With the overall box office up slightly from the same weekend last year — 3 percent, according to one studio's tally — two other new wide releases also missed their pre-release projections.
Sony's Ruben Fleisher-directed comedy "30 Minutes or Less" opened to an estimated $4.9 million Friday at 2,888 locations and will probably miss forecasts in the mid-to-high teens range. The R-rated film, shot on location in Grand Rapids, Mich., only cost around $20 million to make.
Fox's "Glee: 3D Concert Movie," meanwhile, also represents a rather inexpensive gambit — it debuted to $2.7 million Friday and won't hit the $10 million $12 million range that had been projected for it.
TheWrap's full weekend box office report will arrive Sunday morning. Cancel any plans for family and spiritual observance to be there if you can.
Thursday preview:
The summer's not over, but the box office will look a little Fall-ish this weekend, with a Civil Rights-era drama, a horror-film sequel and several other niche titles hitting theaters.
But it is still, in fact, summer — and neither Warner/New Line's teenager-fatality saga "Final Destination 5" nor DreamWorks' Emma Stone-led adaptation of the best-seller "The Help" are expected to beat the last tentpole released into the market, Fox's "Rise of the Planet of the Apes," which could take in as much as $30 million after a huge $54.8 million start last weekend.
Also read: 'Final Destination 5' — You Can Cheat Death, But You Can't Escape the Writing or Acting
Also debuting this weekend: "Zombieland" director Ruben Fleisher's latest action-comedy, "30 Minutes or Less," which stars Jesse Eisenberg, Aziz Ansari, Danny McBride and Nick Swardson; and "Glee: The 3D Concert Series" (which pretty much says it all in the title).
While Fox's seventh "Planet of the Apes" movie is the weekend favorite, both "Final Destination 5" and "The Help" could make it a close race.
DreamWorks' adaptation of Kathryn Stockett's best-seller about the relationship between Southern society women and their African-American domestic employees in the 1960s got off to a strong start Wednesday, grossing $5.5 million.
With Disney distributing "The Help" in 2,534 theaters across the U.S. and Canada, and the movie supporting strong reviews (75 percent on Rotten Tomatoes) and solid word of mouth among moviegoers (A-plus Cinemascore), some box-office watchers are forecasting a three-day performance in the range of $25 million – $30 million.
Also read: Who Needs a Comedy With '30 Minutes or Less' Worth of Laughs?
"Final Destination 5" is predicted to end up in the same mid-20s range, with the film opening in 3,155 theaters, most of them 3D-equipped.
The film is commanding surprisingly strong reviews for a horror film (60 percent on Rotten Tomatoes), with its native 3D quality commanding much of the raves.
Steven Quale, who learned the 3D filmmaking craft under James Cameron himself (he was the visual effects supervisor on "Avatar"), directed the R-rated film, which was shot on a budget of $42 million in Vancouver, individuals close to the project say.
"Steve has forgotten more about 3D than we ever knew," quipped Craig Perry, producer of the decade-old, five-film horror franchise. "This is native 3D — it's not a gimmick. And Steve uses it as a tool to tell the story. For example, there's a scene where a suspension bridge collapses, and Steve uses it to really sell the vertigo."
With the death scenes in the fourth movie rendering the suspension-of-belief bridge for many moviegoers a bit unstable, Perry said the producers closely studied the initial films of the franchise in an effort to better ground the next sequel.
The work seems to have paid off, with a number of critics saying the fifth film's story works better.
Also read: 'Glee: 3D Concert Movie': Songs for Gleeks, Cleavage for Straight Guys
So will there be a "Final Destination 6"?
Perry, not surprisingly, said the producers and Warner Bros./New Line will wait to see how version 5.0 does. The fourth film — despite narrative deficiencies — outperformed expectations, debuting to a series-high $27.4 million two years ago, somewhat on the strength of a hotter 3D market.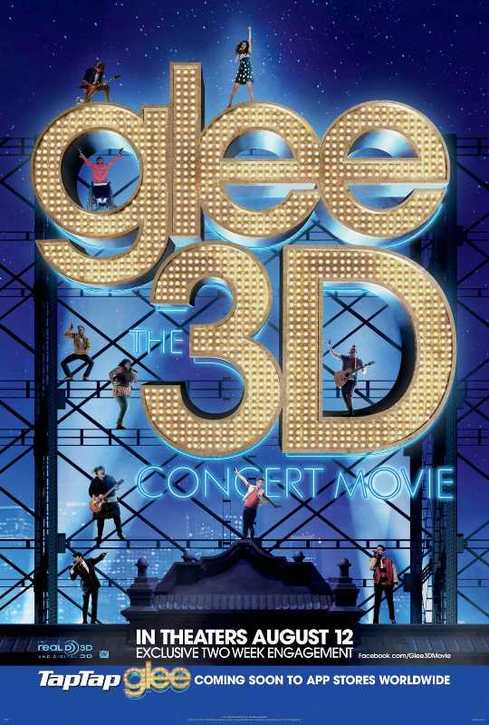 About 88 percent of males under the age of 25 report awareness that "Final Destination 5" is coming to a theater near them, according to tracking firm NRG. Among that group, 23 percent report "definite interest" in seeing the film, and 8 percent describe it as their "first choice" the next time they enter the multiplex.
Sony's R-rated "30 Minutes or Less," meanwhile, opens in about 2,600 locations. Rotten Tomatoes has aggregated its reviews at around 47 percent, as of noon Thursday.
The film, which was shot in Grand Rapids, Mich., reportedly on a budget of around $20 million, is expected to open in the mid-to-high teens.
As for Fox's "Glee: The 3D Concert Movie," it's getting solid reviews (83 percent on Rotten Tomatoes) and will open up in 2,040 locations.
The film, produced for $9 million and spun off from Fox's hit musical TV series, is expected gross around $10 million to $12 million this weekend.
With Fox not having released a lot of concert films, a studio executive wasn't sure what to expect with the film. "Justin Bieber: Never Say Never's" big $29.5 million opening performance for Paramount in February shows that an over-performance is certainly possible.