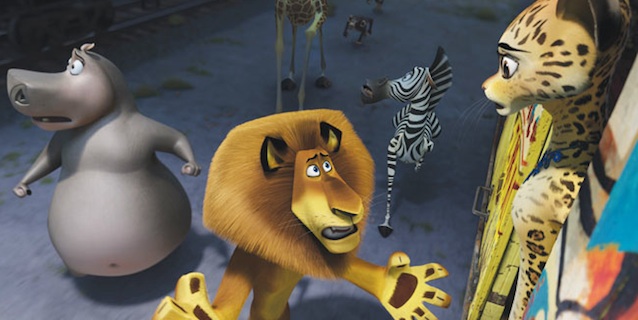 "Prometheus" and "Madagascar 3" Europe's Most Wanted" provided a box-office power surge Friday.
Ridley Scott's sci-fi epic rocketed to $21.4 million and DreamWorks Animation's "Madagascar 3: Europe's Most Wanted" did $20.4 milion in their first day of release.
The family-friendly "Madagascar 3" appears to have the edge for the weekend and could hit the $60 million mark, with the kids likely coming out on Saturday and Sunday. Audiences broke down 56 percent female and 54 percent under 25. They loved the film, giving it an "A" CinemaScore. Paramount is distributing.
Fox's R-rated "Prometheus," spiked by $3.5 million from Thursday midnight shows, is on track for a weekend in the $52 million-$54 million range. Much of its business came from its 2,649 3D locations. It's at 3,396 locations in all, inclluding 300 Imax screens.
Also read: 'Prometheus' Grosses Bloody Good $3.56M in Midnight Shows
Last week's No. 1 film, "Snow White and the Huntsman," took in $7.5 million Friday, putting it on pace for a $24.1 million weekend and raising its domestic gross to date to $99.6 million.
"Men in Black 3" took in $4.2 million Friday from 3,792 locations, upping its overall domestic gross to $126.2 million and its worldwide total to more than $441.8 million.
Earlier …
For the first time this summer, Hollywood's not sure who's going to win the weekend box office.
Whether it's to the deep-space terror of Ridley Scott's "Prometheus" or the wise-cracking critters of "Madagascar 3," it's clear the current No. 1, "Snow White and the Huntsman," is going down.
"Madagascar 3: Europe's Most Wanted" might have a slight edge, analysts and insiders say, but it's too close to call. Both movies are expected to make about $50 million between Friday and Sunday, with "Snow White" dropping to the mid-$20 million range.
It should be quite a duel, all the more intriguing since the summer box office has had an air of inevitability since "The Avengers" landed. Both films have been well-received by the critics and both could exceed expectations analysts say, though tracking on family films can be dicey.
Also read: The Blockbuster That Ate Hollywood: Why 'Avengers' Is Crowding the Box Office
DreamWorks Animation's "Madagascar 3" will be the first animated movie to hit theaters since Sony opened 'Pirates! Band of Misfits" in April, and the first CGI film since Universal's "The Lorax" opened to $70 million in March.
"That's a long time to go without a real family film," Jeff Bock, senior analyst at Exhibitor Relations.com told TheWrap Thursday. "You have to think there's some pent-up demand there."
"Prometheus" has had the sci-fi universe buzzing since 2010, when Ridley Scott announced his return to the legacy of his 1979 horror classic "Alien," and comes in having already banked $46 million overseas since bowing in 15 territories last week.
"The hardcore fan base is going to be there," Boxoffice.com editor-in-chief Phil Contrino told TheWrap Thursday. "The question is whether Fox has sold the average moviegoer in Middle America and convinced them to see it in 3D or at Imax."
Fox will launch the R-rated "Prometheus" on 3,396 screens, including 2,649 3D and 300 Imax locations. DWA will send out "Madagascar 3" at 4,200 locations, all digital.
"Madagascar 3" follows the gang, refugees from a New York zoo, as they try to make their way back to the Big Apple from Europe and join a traveling circus. Frances McDormand, Jessica Chastain, Bryan Cranston and Martin Short have joined the voice cast, along with returnees Chris Rock, Ben Stiller, Jada Pinkett Smith and David Schwimmer. Noah Baumbach ("Fantastic Mr. Fox") comes aboard as a co-writer with Eric Darnell, who directs.
Also read: 'Madagascar 3' Review: Third Time Really is the Charm for These Animated Animals
DWA is also debuting the film on the same day in 22 foreign countries, including Russia, China, India, Brazil and France. The franchise's two earlier installments made much more aboard than at home.
The first "Madagascar" film opened domestically to $47.2 million in 2005 and went on to gross $532 million worldwide, $339 million from overseas. The sequel, "Madagascar: Escape 2 Africa," bowed to $63.1 million in the U.S. in 2008 and went to ring up $603 million in global grosses, $423 million from foreign sales.
DWA is predicting a $45 million weekend for "Madagascar 3," comparing its tracking to that of its "Kung Fu Panda 2," which opened to $47 million in May of 2011, and "Ice Age 3,' which bowed to $41 million in July 2009.
The studio puts the production budget on "Madagascar 3" at $145 million, but the box office will be just a part of the bottom line. The studio has signed a slew of promotional partners for "Madagascar 3," ranging from Zynga apps to specially stamped Dole bananas — 100 million of them.
The critics liked it. MovieReviewIntelligence.com has 72.9 percent positive reviews, Rotten Tomatoes 74 percent. Metacritic gives it a 66 rating.
"Prometheus" is set in the 21st Century and chronicles the journey of spaceship crew following a star map discovered among the remnants of several ancient Earth civilizations. Seeking the origins of humanity, they instead discover a threat that could cause the extinction of the human race.
Also read: 'Prometheus' Review: Serviceable Sci-Fi Flick Doesn't Live Up to 'Alien' Legacy
Scott produced and directed from a script co-written by Damon Lindelof and Jon Spaihts. Noomi Rapace, Michael Fassbender, Charlize Theron, Idris Elba and Guy Pearce star. Lindelof and Tony Scott are also producers. The studio put the production budget at $130 million and said Thursday that it is looking for a $30 million first weekend.
The reviews are strong. Seventy-four percent of the Rotten Tomatoes reviews are positive; 72 percent were positive on MovieReviewIntelligence.com. Metacritic gave it a 66 rating.
Universal's "Snow White and the Huntsman" is looking at a roughly 50 percent drop from its surprisingly strong $56 million opening last week, analysts say. It could face the double whammy of losing young males to "Prometheus" and older females who may be taking their kids to "Madagascar 3."
"If they can come in at the high-twenties it would be quite a feat," said Bock, "and if they do, it could take a toll on 'Prometheus.'"
Sony's "Men in Black 3" returns for its third week, having rung up $426 million worldwide, $307 million of which has come from overseas.
Focus Features is expanding Wes Anderson's "Moonrise Kingdom" into 96 theaters this weekend. That could be enough for it to join another specialty film surprise, Fox Searchlight's "Best Exotic Marigold Hotel," in the top ten.
Arthouse audiences will find a steamy French drama and three R-rated comedies vying for their attention.
"Twilight" heartthrob Robert Pattinson is front and center in "Bel Ami," a period drama based on the 1885 novel by Guy de Maupassant. He plays a young man who rises to power in Paris after manipulating the city's most influential women. Uma Thurman, Christina Ricci, Colm Meaney and Kristen Scott Thomas co-star. Magnolia is opening the film, which is already available on video-on-demand, in 15 theaters.
"Peace, Love and Misunderstanding," a comedy from BCDF Pictures, opens in 28 theaters via distributor IFC. Catherine Keener plays an uptight New York lawyer who takes her two teenagers to visit her hippie mother (Jane Fonda) at her upstate farmhouse. Elizabeth Olsen and Nat Wolff co-star
Film District is opening the sci-fi comedy "Safety Not Guaranteed" at nine locations. Aubrey Plaza, Jake M. Johnson and Karan Soni star in Derek Connolly's tale of three magazine writers who encounter a man offering time-travel trips.
Fox Searchlight is opening "Lola Versus" at four theaters. Greta Gerwig stars as a woman dumped by her boyfriend weeks before their marriage who comes to grips with being single as she approaches 30. Zoe Lister Jones, Bill Pullman, Hamish Linklater, Debra Winger and Joel Kinnaman co-star.
Also read: Can 'Prometheus' and 'Abraham Lincoln: Vampire Hunter' Revive the R-Rated Blockbuster?
Also read: 10 Highest Grossing R-Rated Movies of All Time
Also read: Box Office Preview: 'Prometheus' vs. 'Madagascar 3' Is Too Close to Call