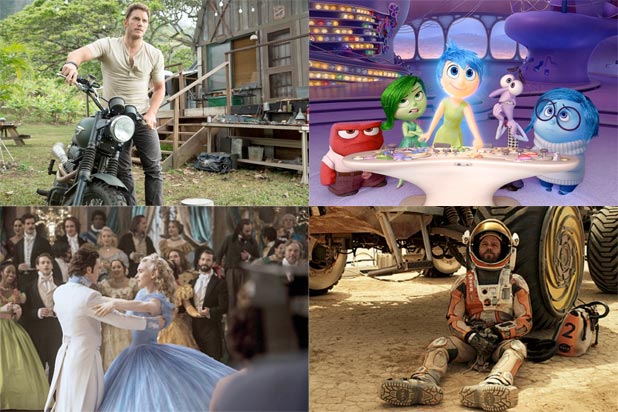 Movie reviews mattered at the box office this year, maybe more than ever.
Of this year's 15 highest-grossing movies, only one — the steamy bestseller adaptation "Fifty Shades of Grey" — was poorly reviewed. Anastasia and Christian turned off 75 percent of the critics on review aggregation site Rotten Tomatoes, but "Fifty Shades" but still made $166 million domestically.
Twelve films on the top 15 list, led by "Jurassic World" and "Avengers: The Age of Ultron," were all hits with critics as well as moviegoers. Pixar's "Inside Out" was the best-reviewed movie, with a 98 Rotten Tomatoes score and a 94 on Metacritic.
Also Read: Can Holiday Horror 'Krampus' Take 'Hunger Games,' 'Good Dinosaur' for Box Office Slay Ride?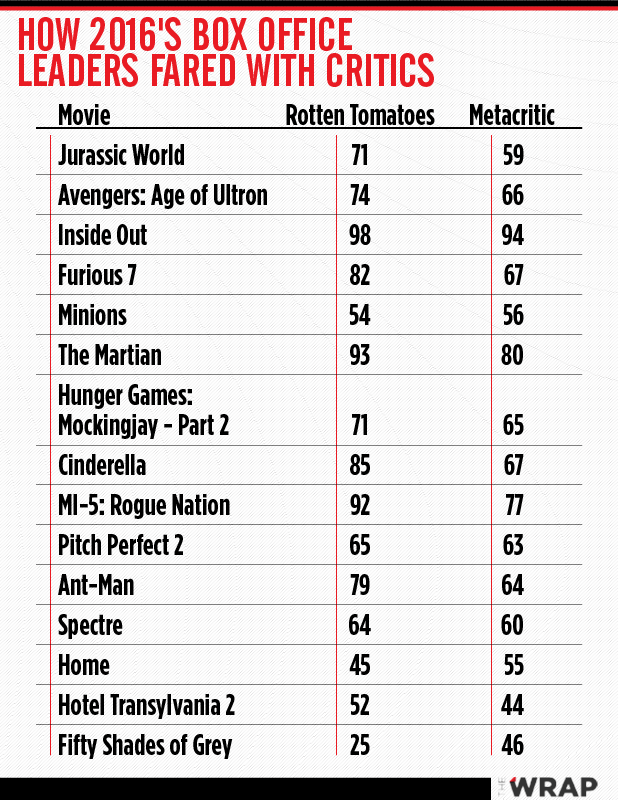 Two other high-grossing movies, the animated hits "Home" and "Hotel Transylvania 2," both succeeded with ticket buyers despite middling reviews from critics.
The phenomenon cut the other way, too. Not one of the year's biggest box-office bombs — "Jupiter Ascending," "Pan" or "Aloha," "Seventh Son" — had more positive reviews than bad.
For purposes of this study, we looked at the aggregated reviews on the web sites Rotten Tomatoes and Metacritic. We viewed a movie with scores under 50 percent positive as "poorly reviewed." A score of between 50 and 54 was "so-so" and anything above 56 counted as good.
It's logical that the best movies should be more popular with consumers than bad ones, but it hasn't been that simple until now. Critics gave a thumbs-down to six of the movies that ranked in 2010's top 15. In 2012, it was five, and it has continued to decline since.
Also Read: 5 Reasons 'Creed' Became a Box Office Champ
Analysts say that consumers are aligning more with critics in part because they are reading, tweeting and reacting to film reviews faster and in greater numbers.
"It's social media," Rentrak senior analyst Paul Dergarabedian told TheWrap. "You hear the phrase 'everybody's a critic' and it's supposed to be a bad thing, but I'm not sure it is today. Moviegoers are more informed and savvier than they've ever been.
"When movies like 'Mission: Impossible 5 – Rogue Nation' and 'Straight Outta Compton' really connect and audiences pass the word on social media, everybody wins."
Also Read: 22 Summer Hits and Misses: Chris Pratt's 'World,' Tom Hardy's Reboot and Season's Most Embarrassing Flop
The phenomenon has forced changes in the strategies of studio marketers, none of whom agreed to speak on record for this story. Given the effect of rapid-fire reviews on social media, studios are now questioning the concept of "critic-proof" crowd-pleasers that can become box office hits despite negative reviews.
This year, seemingly safe bets like Fox's comic-book reboot "Fantastic Four" (10 Rotten Tomatoes, 27 Metacritic) or Arnold Schwarzenegger's "Terminator: Genisys" (26 Rotten Tomatoes, 38 Metacritic) tanked when critics trashed it.
Also Read: 'Spectre' Is 2nd-Highest-Grossing James Bond Movie
Studios are definitely paying attention. "I know how much [studios] care about the reviews and our ratings because of the phone calls I get when they think one of our numbers is low," Matt Atchity, editor-in-chief at Rotten Tomatoes, told TheWrap.
"People are more receptive to reviews than before because now you have so many options, so many channels calling to you from that cable box, and from your computer at work," he said. "They're looking for guidance and reviews and social media provide some."
In the past, with a smart campaign you could successfully open a movie that was never going to be compared to "Citizen Kane," and even get a solid money-making week in, before the court of public opinion took its toll.
Also Read: How 'Fifty Shades' Drew Fans Willing To Go the Extra Mile -- To Avoid Being Seen
But now, when moviegoers walk out of theaters disappointed, they're clicking away on their phones in the parking lot, and the impact is felt the next day. If consumers hate your movie on Friday night, you're often sunk on Saturday.
"It would take days or even a week for the 'water cooler effect' to have an impact in the past," said Dergarabedian. "But cellphones are the new water coolers, and that means it's a matter of minutes."