Liam Neeson thriller "Unknown" won the four-day Presidents Day weekend box office, grossing $25.6 million, according to studio estimates.
Overall, however, the domestic market was way off — nearly 30 percent — from last year's $240 million record gross on the same weekend, with two other notable new releases under-performing.
Disney's "I Am Number Four" — a youth-targeted sci-fi drama that's the first film released under the studio's distribution agreement with DreamWorks — badly missed tracking in the $30 million range, grossing just $22.6 million over the four-day weekend.
Fox's "Big Mommas: Like Father, Like Son" — part three of the Martin Lawrence comedy franchise, which featured up-and-comer Brandon T. Jackson donning his own latex fat suit — grossed just $19 million. It was projected to take in around $25 million.
Here's how the top 10 finished this weekend. Full report continues below chart: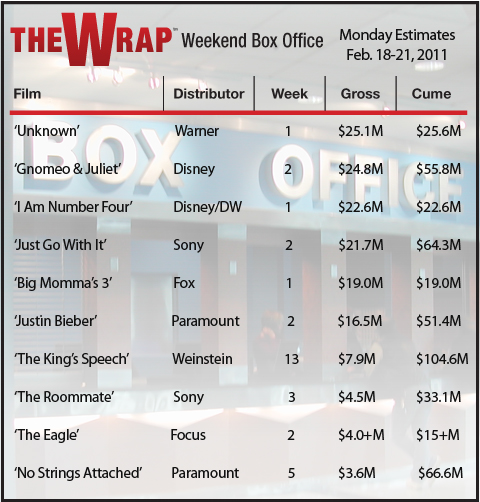 While the overall domestic market continues to struggle, Oscar-nominated specialty titles keep thriving.
One more such film passed the $100 million threshold domestically this weekend: Weinstein's "The King's Speech" grossed an estimated $7.9 million over the four-day holiday period, bringing its North American total to $104.6 million.
Fox Searchlight's "Black Swan" ($101.8 million) passed the mark late last week, while Paramount's "True Grit" now has more than $164 million in North American grosses.
But the biggest story was the over-performance of "Unknown" … and the under-performances of "I Am Number Four" and "Big Mommas 3."
Shot for around $30 million, "Unknown" represented a much-needed win for Joel Silver's Dark Castle, which experienced a series of duds in 2010.
The PG-13-rated thriller even opened better than the film it was compared to, Fox's sleeper Neeson hit "Taken," which started out to $24.7 million two years ago.
"I Am Number Four," meanwhile, was shot for just over $50 million, according to Disney, and stars British newcomer Alex Pettyfer as a space alien on the lam from his own kind while on Earth.
The film garnered a so-so B-plus score from movie customer-satisfaction grader Cinemascore.
"No excuses, but the weather on the West Coast and in the Northwest did affect things," said Disney theatrical distribution president Chuck Viane, whose weekend was offset by the No. 2 finish by "Gnomeo and Juliet."
The G-rated, CG-animated film was the only kid-targeted film in the market, and didn't decline at all in weekend No. 2.
"Big Mommas 3," meanwhile, was shot for the economical price of $32 million, but couldn't match the mid-to-high-$20-million performances of the franchise's first two installments.
Overall, four films passed the $20 million mark this weekend, but it was no match for a 2010 Presidents Day which featured ensembled rom-com "Valentine's Day" opening to $63.1 miliion, and four films at — or way past — the $30 million mark.
"The good news is a lot of kids are out of school this week, and we're going to do a lot of buisness over the next seven days," Viane noted.
But for a domestic motion picture business that remains down over 25 percent year to year through late February, that won't be enough to catch up.