"Boy Meets World" actor William Daniels has published a new memoir in which he shares that he was abused as a child actor — something he only realized years later.
In his book, "There I Go Again: How I Came to Be Mr. Feeny, John Adams, Dr. Craig, KITT & Many Others," he discussed how his mother dragged him to auditions at a very young age and forced him to dance, sing and perform on stage. Sometimes, he would work crazy morning hours and on weekends, while children received very little pay.
Daniels, now 89, was a child performer during the Great Depression in the 1920s and '30s.
"Many decades later, when I started writing this book, I started seeing a psychologist, Dr. Estelle Shane, who suggested that I was an abused child. I was shocked to hear such a description — that I had been robbed of a normal childhood, forced to perform and put into situations that I had no control over," reads an excerpt from Daniels' book (via People). "It was unhealthy, my doctor said, that I was unable to express my anger, my fears and my dread of knowing what was expected of me in the future."
---
Also Read: 'Girl Meets World' Mounts One Last 'Boy Meets World' Reunion in Series Finale (Exclusive Video)
---
He continued: "Also hurtful was my mother's failure to say 'good job' or 'well done,' compliments surely all children need to hear. Mother believed, rather firmly, that children get 'swelled heads' if they had too much praise. It has taken me a long time to agree with this diagnosis. It is true that my sisters and I were the tool's of my mother's ambitions — her ambitions not just for her children, but for herself."
Daniels, who also spoke with People, said he was initially in denial about the abuse.
"I had no idea that — I didn't feel like, 'Oh my God, I'm being abused' or anything like that," he said, explaining that he told his therapist years later, "'No, my mother wouldn't.' And she said, 'Yes you were [abused]. You were forced onto the stage.' They didn't realize the pressure of performance that my sister and I went through. So they sat out in back or stood out back with the other parents. … It was during the Depression when kids became very popular performers because they didn't have to pay them. So that's what we did — many, many of those. Two or three a week sometimes. And I don't know how we did it and got any sleep, because it was in the evening and we'd get home at 1 o'clock in the morning. But we did it and we didn't feel like we were being abused. It didn't occur to us until this analyst said to me, 'No, you were being abused.' And I thought, 'Oh, yeah.' I'm sure Irene — that's my mother — didn't feel that way."
---
Also Read: Jane Fonda Says She Was Raped, Sexually Abused As a Child
---
In his book, he also describes his doctor's conclusion: "Dr. Shane said that it wasn't depression. She said, 'I think you're in mourning for your lost childhood.' My level of anxiety while reading these pages — some of which literally brought me to tears — finally convinced me of my psychologist's analysis: I was indeed an abused child. Why did my mother have to drag us around, throwing back carpets in her friends' apartments, demanding that we dance like trained monkeys?… And why was I such a wimp and couldn't say no? In my defense, I was just a child. But still."
Both of Daniels' parents have passed away: His mother died almost three decades ago, while his dad passed on Sept. 11, 2001.
Daniels starred as Mr. Feeny in both "Boy Meets World" and "Girl Meets World," as well as "Grey's Anatomy," "The Rebels," "The Graduate," "Blind Date," "The Benchwarmers" and "Blades of Glory."
His book was released on March 1.
22 Times 'Girl Meets World' Has Paralleled 'Boy Meets World' So Far (Photos)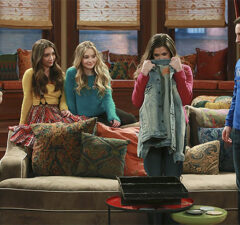 (Tap photo and swipe to view gallery)