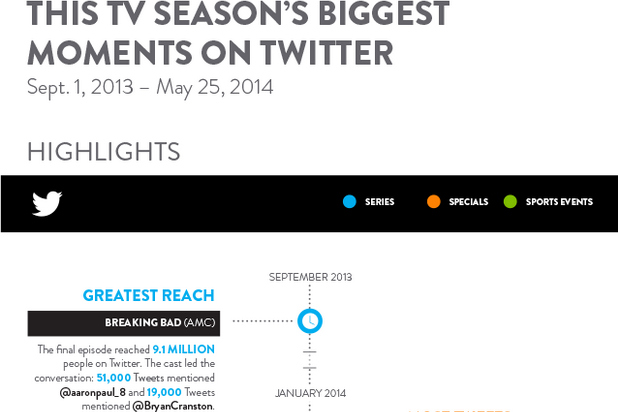 Twitter, much like TV viewers, must miss "Breaking Bad." After all, the former AMC meth drama is the top TV series on the social media network since Nielsen launched the Twitter TV Ratings last fall.
Of course, the timing was perfect for the end of "Breaking Bad": just the final five episodes are captured in the average below. The series finale reached 9.1 million Twitter users.
Also read: 'Pretty Little Liars' Season 4 Winter Premiere Is Most-Tweeted Debut in TV History
The second-biggest series is also an AMC show, "The Walking Dead." Third is ABC Family's "Pretty Little Liars."
In terms of specials, the Oscars beat out the Grammys in audience size, but the two awards shows swap spots in the total tweets rankings.
Also read: Tumblr Tops Twitter's Social TV Activity, Says New Study
For sports, the Super Bowl predictably topped the two league championship games, which round out the Top 3. The big game had the most tweets and largest audience reach on TV since September.
Check out the infographic: