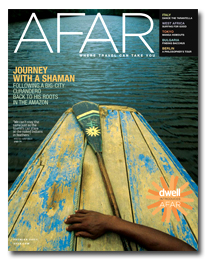 Hard to believe, but it's true. A new, glossy, ink-on-paper magazine launched last night with a party in New York.
The magazine – Afar – is devoted to what its founders call "experiential travel." It was conceived by Greg Sullivan, an entrepreneur and former arcade game manufacturer, and his business partner Joe Diaz, a former teacher.
To get off the ground, Afar is partnering with Dwell, the award-winning shelter title. (The partnership will include shared ad sales and marketing resources, as well as office space in both New York and San Francisco.)
The bimonthly will carry an initial rate base of 50,000, increasing to 75,000 in 2010, and a $4.99 cover price.
The first issue includes 25 ad pages and 35 advertisers – most of them from exotic travel destinations (Anguilla!), airline and tourism departments.
Any magazine launch party is notable these days, but this one was particularly notable because of the venue: the home of Karen Lashinsky, a converted sausage factory on Hudson Street filled with curious artifacts from her own world travels.
As if to underscore the importance of this magazine launch, Samir Husni, journalism professor at Ole Miss and expert chronicler of magazine launches at his Mr. Magazine site, made the trip from Oxford, Mississippi for the event. (He could also have been visiting his daughter, who lives in New York.)
At the party, the mood was celebratory, despite the publishing industry's current climate of despair. Ad pages for consumer magazines plummeted 27.9 percent during the first half of the year – representing roughly $2.5 billion in lost revenue. In fact, of the 243 magazines tracked by the Publishers Information Bureau, just 12 managed to increase their ad pages.
Afar's mentor, Dwell, watched its own ad pages fall 43 percent.
It reminded me of what publisher and noted blogger Rex Hammock once wrote: "This is the craziest time ever to launch a magazine, except for all the other times."