After being written off as dead, the Christian Slater comedy "Breaking In," Fox has renewed the series for a 13-episode second season, the network said on Thursday.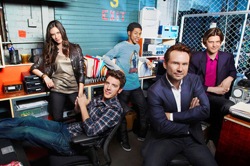 The series, which stars Slater as the head of a high-tech security firm with questionable business practices, debuted on April 6 and was yanked in mid-May. At the time, Fox said it would not be renewing the show.
The show will return in 2012 with new episodes as a midseason offering.
Kevin Reilly, president of entertainment for Fox Broadcasting, called the series a "creatively vibrant and wildly adventurous comedy," adding, "We can't wait to see where they take these characters next year."
The series, which was created by Adam F. Goldberg and Seth Gordon, co-stars Bret Harrison, Alphonso McAuley and Odette Annable.