Donald Trump is saying "you're re-hired" to a whole bunch of "Celebrity Apprentice" alum.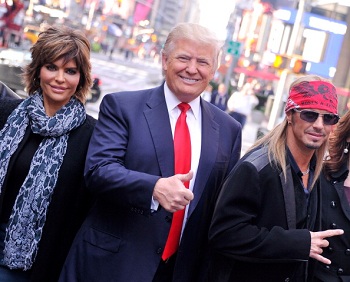 The lineup for the inaugural installment of "All-Star Celebrity Apprentice" was released by NBC on Friday, revealing a litany of fan favorites who will return to compete against each other.
Also read: Clay Aiken, Arsenio Hall Among "Celebrity Apprentice 5" Cast Outed Via NYC Sandwich-Selling Contest
In addition, winners from the past five seasons of "Celebrity Apprentice" — CNN personality Piers Morgan, comedienne Joan Rivers, country singer John Rich and late-night host Arsenio Hall — will serve on the board of advisers for the all-star edition.
Of the returning competitors, the male portion consists of Stephen Baldwin, Trace Adkins, Gary Busy, Penn Gillette, Lil Jon, Bret Michaels (who won the third season of "Celebrity Apprentice"), Dennis Roman and Dee Snider.
Also read: "Celebrity Apprentice": Gary Busy Finally Evicted (Video)
The distaff half of the competition will be made up of Marilu Henner, La Toya Jackson, former "The Price Is Right"/"Deal or No Deal" model Claudia Jordan, "Apprentice" fan favorite Omarosa, actress Lisa Rinna, and former Playboy Playmate of the Year Brande Roderick.
"All-Star Celebrity Apprentice" will premiere March 2013.