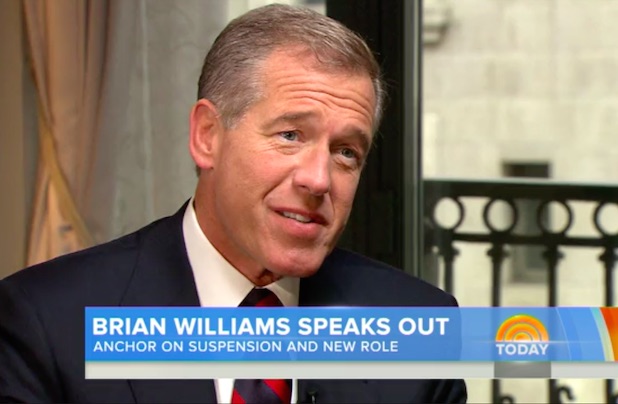 Brian Williams' apologetic interview with Matt Lauer didn't satisfy the social masses Friday, as most social media users panned the former "Nightly News" anchor for perceived evasiveness in his answers.
"I told the story correctly for years before I told it incorrectly–I was not trying to mislead people, that to me is a huge difference here," Williams told Lauer.
"It came from a bad place, it came from a sloppy choice of words," Williams said about telling inaccurate stories on and off-air while vehemently claiming he did not intentionally lie.
Also Read: Brian Williams Demoted to MSNBC Breaking News Anchor
Social media wasn't having it.
There needs to be an equivocation-off between #BrianWilliams & #RachelDolezal. What the hell are they saying? #JustTellTheTruth

– Gina Way (@ginaway1) June 19, 2015
What troubles me about #BrianWilliams' word choice: "I got it wrong" is not the same as "I lied." Journos have to feel safe in admitting … — Melodie Lettkeman (@MelodieRhae) June 19, 2015
#BrianWilliams full of crap! You lied dude. There's nothing to figure out. #BSApology.

– Hadassah Legge (@Sangkofah) June 19, 2015
Sorry, @NBC. #BrianWilliams STILL seems to be equivocating. When given an interview chance to come clean, he still retreats into vagueness. — Miyo Burnett (@mburnettt) June 19, 2015
(2/2) No admittance by #BrianWilliams of lies. So, if he can't really admit it, I have trouble believing what he'll report. #PR #mediachat

– Jason Mollica (@JasMollica) June 19, 2015
I was waiting for #BrianWilliams announcement for President 2016 with all the twisting, turning, circling he just did. @TODAYshow — Sandra Douglas (@2gradeteach) June 19, 2015
MSNBC…where honesty is not a job requirement. #BrianWilliams

- Kris (@scrapmom50) June 19, 2015
Some took aim at Lauer:
No offense to Matt Lauer, but an independent journalist should have interviewed Brian Williams. http://t.co/uDeDxQ9rXv

– Jeff Jarvis (@jeffjarvis) June 19, 2015
Oh good, NBC millionaire host Matt Lauer interviewing NBC millionaire anchor Brian Williams…..

– Eric Boehlert (@EricBoehlert) June 19, 2015
Williams will start at MSNBC when his suspension ends in August.