A series of terrorist attacks killed dozens in Brussels Tuesday morning, with two explosions at its international airport and one at a subway station.
"We were fearing terrorist attacks, and that has now happened," Belgian Prime Minister Charles Michel said.
Brussels officials raised the terror threat level to four, the highest level. They also shut down all public transportation in the city and advised locals to stay indoors; security was heightened throughout Europe in the wake of the attacks.
The bombings came after the arrest of Salah Abdeslam, the main surviving suspect in last November's deadly terrorist attacks in Paris.
Here are the latest developments in the fallout from the bombings.
See Photos: Brussels Attacks: The Most Stunning Scenes From a City in Mourning
Nail bomb and chemical products found in raid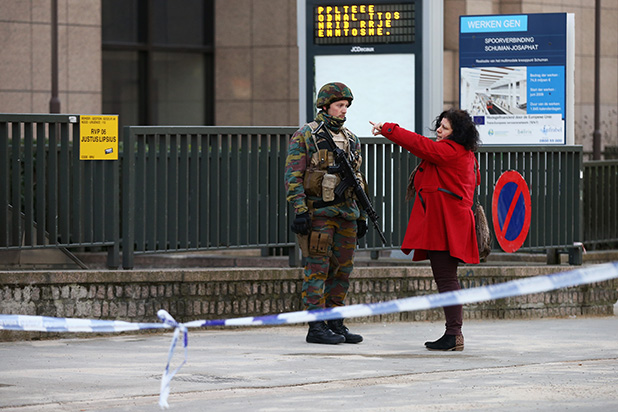 According to the Associated Press, Belgian prosecutors said that a new explosive device containing nails was found in a Brussels search. Moreover, chemical products and an ISIS group flag were found in the raid.
"Belgian prosecutors say 'chemical products,' Islamic State group flag found in raid," the AP tweeted Tuesday.
Third bomb deactivated at airport
Reuters reported a Belgian official has said that a third bomb was discovered and deactivated at the airport where two blasts killed at least 14 people.
Brussels airport CEO Arnaud Feist has confirmed that the third bomb was detonated in a controlled explosion.
Report: Death count rises to 34
Belgian media reported that at least 34 people were killed and about 170 more have been wounded. Although Belgian federal Prosecutor Frederic Van Leeuw cautioned it was too soon to know exactly how many people died, Belgian state broadcaster RTBF reported 20 dead at the Maelbeek metro station and another 14 killed at the airport.
Islamic State claims responsibility
Islamic State terrorist fighters also known as ISIS, or ISIL, claimed responsibility for the Brussels blasts, according to a report from a news agency close to the group. According to the AMAQ, "Islamic State fighters carried out a series of bombings with explosive belts and devices on Tuesday, targeting an airport and a central metro station in the centre of the Belgian capital Brussels."
Also Read: Brussels Terrorist Attacks: Bloody Aftermath Captured on Social Media (Warning: Graphic Images)
Belgian police release photo of man wanted for questioning
Dit zijn verdachten van aanslag in Zaventem. https://t.co/sXNekXpLDQ pic.twitter.com/RX8lUQADOr

— VTM NIEUWS (@VTMNIEUWS) March 22, 2016
According to U.K. paper The Guardian, Belgian police released the a photo of a potential suspect, saying the unknown man dressed in white at the attack on the airport is wanted for questioning. The identities of the two other men aren't known at this time.
US official claims suitcase bomb exploded at airport
The Associated Press cited an unnamed U.S. official as saying security authorities believe at least one suitcase bomb detonated at the Brussels airport. The official confirmed a statement by a Brussels official about evidence of a suicide bombing at the airport as well. 
Belgium's King Philippe to address nation
Ce soir à 19 h sur les chaînes nationales : message à la population suite aux attentats de ce matin à Bruxelles.

— Belgian Royal Palace (@MonarchieBe) March 22, 2016

The country's Royal Palace confirmed King Philippe will make a live address to the country on all television channels at 7 p.m. local time, or 11 a.m. PT.
President Obama condemns attacks
President Obama, who is currently on a historic trip to Cuba, called the attacks "outrageous" during a press conference, during which he promised the U.S. "will do whatever is necessary to support our friend and ally Belgium in bringing justice to those who are responsible."
"This is yet another reminder that the world must unite. We must be together, regardless of nationality or race or faith, in fighting against the scourge of terrorism," Obama added.. "We can and we will defeat those who threaten the safety and security of people all around the world."