Disney's "Oz the Great and Powerful" dominated the box office in its second week, taking in an estimated $42.2 million and raising its overall domestic total to more than $145 million.
But two openers, Halle Berry's "The Call" and Steve Carell's magician comedy "The Incredible Burt Wonderstone," provided the story line this weekend.
"The Call" was in a relatively low 2,507 theaters and the R-rated kidnap thriller still rang up an impressive $17.1 million. That's about $6 million more than analysts had projected for the kidnap drama, produced by Troika Pictures and WWE Entertainment for an estimated $13 million and distributed by Sony's TriStar.
But "Burt Wonderstone," which was in 3,160 theaters, pulled just $10.3 million out of its box-office hat. That's about $5 million less than analysts projected for the PG-13 film, produced by New Line and BenderSpink for an estimated $30 million.
Also read: Sizzling 'Spring Breakers' Debut Gives James Franco a Box-Office Double
In "The Call," Berry stars as veteran 911 operator who receives a call from a girl (Abigail Breslin) who has just been abducted and soon realizes that she must confront a killer from her past in order to save the girl's life. The studio's marketing campaign targeted female moviegoers and it connected: 61 percent of the audience polled was women and 47 percent were under 30 years of age. They gave it a "B+" CinemaScore.
"Burt Wonderstone" was particularly disappointing given its strong marketing push, the lack of comedy competition in theaters and the stars involved.
The last time Carell and Jim Carrey were paired was in "Bruce Almighty," which made nearly $250 million at the domestic box office. But that was a decade ago, and the PG-rated "Burt Wonderstone" wasn't well-received by critics — it has 36 percent positive ratings on Rotten Tomatoes — or moviegoers, who gave it a "C+" CinemaScore.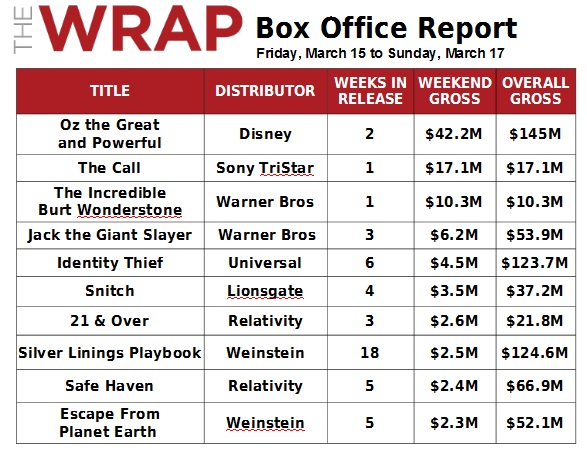 In "Burt," two Las Vegas magicians (Carell and Steve Buscemi) find themselves upstaged by the stunts of a street magician (Carrey) and look to salvage their act — and their friendship — by staging their own daring stunt. James Gandolfini, Olivia Wilde and Alan Arkin co-star.
Also read: 'Incredible Burt Wonderstone' Reviews: Jim Carrey More Magical Than Steve Carell
The weak debut continues a run of 2013 disappointments for Warner Bros., which was the studio behind the Best Picture Oscar winner "Argo." It's last release was "Jack the Giant Slayer," which cost $200 million to produce and has taken in just $54 million in three weeks.
Next month offers hope for a turnaround, however. In May, the studio will roll out "The Great Gatsby," "The Hangover Part III," and "Man Of Steel," and all are expected to be big box-office performers.
"Jack," which is still on a whopping 3,357 screens in its third week, finished fourth with $6.2 million. Behind "Jack" was Universal's "Identity Thief," which brought in $4.5 million for the weekend. The R-rated Melissa McCarthy-Jason Bateman comedy, produced for $35 million, has brought in nearly $124 million since debuting six weeks ago.
"Oz the Great and Powerful" added another $46.6 million from 55 foreign markets to up its international total to $136.8 million. The worldwide gross for the $200 million special effects extravaganza, directed by Sam Raimi and starring James Franco, is more than $281.8 million.