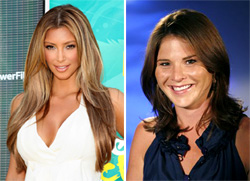 There were new two personnel moves in media that probably caught your eye.
First, the news that NBC's "Today" show has hired 27-year-old Jenna Hager, otherwise known as Jenna Bush, one of former president George Bush's twin daughters, as a "contributing correspondent." Her first story for the so-called "Fourth Estate" will air sometime next month.
Then there was the announcement that Kim Kardashian has been tapped as a "contributing beauty editor" at OK! magazine. Kardashian will start during New York Fashion Week in September.
OK! was quick to note that it also coincides with "recently announced launch of her own fragrance … Lighthouse Beauty."
Bush Hager's hire seems the least gratuitous of the two. NBC says she won't be covering politics and isn't going to talk about her life as a Bush twin – her first report is on "education." (And executive producer Jim Bell said he didn't consider the job offer a "down payment for a future interview with her father.")
This sort of thing happens all the time, of course.
In 2007, U2's Bono was the guest editor of a Vanity Fair issue on Africa. In June, Newsweek got Stephen Colbert to guest edit an issue of its relaunched print magazine. Colbert did so in character.
The hires are meant to generate buzz for their respective marketing and sales teams, but do little to further the editorial product, and can alienate their core audience. (Newsweek got a ton of mail for the Colbert issue – and more than 60 percent were critical of the move.)
Which is fine, by the way – just admit it. It's disingenuous to call it anything more than that.
"Some readers and critics will inevitably object, saying that this is a publicity stunt," Jon Meacham said in June. "To them I solemnly say: you are half-right. Of course I am seeking publicity for the magazine. I would argue with the term 'stunt,' though, but only because of the popular assumption that a stunt is something silly."
Whatever you want to call it, the trouble is, it often doesn't work. Newsweek sold about 75,000 copies of its June 15 issue – a notch above its average of 65,000 copies during the first half of the year but well below its 2008 average – some 20 percent.
The other problem – particularly with celebrities kicking television – is that they are undoubtedly taking away airtime from up-and-coming talent who have paid their dues as PAs and coffee boys. (This was one of the arguments against NBC's hiring of Luke Russert to report during the conventions last summer.)
Bell told the Associated Press that he got the idea for Hager Bush's "Today" turn by her promotional appearances on the show.
"I think she can handle it," Bell said.