In today's Callbacks — your daily roundup of casting news from Deal Central — Clive Owen prepares to search 12,000 New York cabs in "Medallion," Tim Burton may or may not be developing an adaptation of a Japanese comic, a "Boogie Nights" star tracks down Taylor Lautner, Stanley Tucci and Carla Gugino earn money as bankers, Lucas Foster makes a "Blood Oath" with author Christopher Farnsworth and Miranda July's "Future" strikes the Match Factory.
• Clive Owen and his perpetual 5 o'clock shadow will star in the action-thriller "Medallion," reports Screen Daily.
Written by sizzling screenwriter David Guggenheim, the story follows a recently released bank robber who has six hours to pay a $50 million ransom after he learns that a former accomplice has kidnapped his daughter and stashed her in the trunk of one of Manhattan's 12,000 yellow cabs.
While the film will likely offer little in the way of anything new for Owen to play, it's nonetheless a great high-concept idea that provides a solid recipe for an entertaining action movie.
Guggeinheim recently sold his police drama "Puzzle Palace" to Summit after Universal and Scott Stuber bought his CIA thriller spec script "Safe House."
James Holt, Matthew Joynes, Jesse T. Kennedy and McG will produce "Medallion," with Wonderland's Mary Viola exec producing. Lisa Wilson of GK Films affiliate Parlay Films is handling sales at Cannes. Production is scheduled to begin in New York and Toronto this fall.
• Latino Review reports that Tim Burton is planning to direct a big-screen adaptation of the Japanese comic "Mai, the Psychic Girl."
The comic follows Mai Kuju, a 14 year-old Japanese girl with powerful psychic abilities who is being pursued by the Wisdom Alliance, an organization which secretly strives to control the world and already controls four other powerful psychic children. Desperate to have Mai under its influence, the Wisdom Alliance hires the Kaieda Intelligence Agency to capture the girl.
Latino Review says that Burton first began developing "Mai" in the late '80s and that Sony Family Films acquired the property some eight years ago, but Burton has since reacquired the rights to the source material and is said to be supervising the screenplay for the project, which is apparently on Burton's front-burner despite his attachment to nearly a dozen other projects.
For its part, Burton's representation at WME told TheWrap that the "Alice in Wonderland" director is "not involved with the development of the current incarnation of the project." The report certainly seemed suspect, especially considering Burton's ridiculously busy schedule, but it came from Latino Review's trusted source Pinche Taco, and to be fair, he's been right about plenty of things in the past.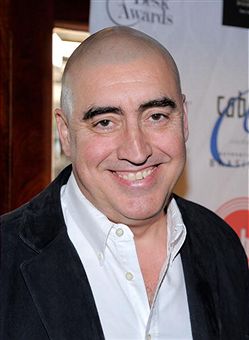 • Alfred Molina has joined Lionsgate's "Abduction," reports Deadline.
The thriller stars Taylor Lautner as a young man who realizes he was kidnapped as a child and is forced to run for his life (with girlfriend Lily Collins) after he reaches out to find his real parents.
Molina will play a CIA agent who is constantly one step behind but is nonetheless determined to bring the teenager in alive.
John Singleton is directing from a script by Jeffrey Nachmanoff, who was brought in to rewrite Shawn Christensen's original spec script that reportedly sold for a cool million.
Gotham Group's Ellen Goldsmith-Vein and Lee Stollman are producing "Abduction" with Vertigo's Roy Lee and Doug Davison and Tailor Made's Dan Lautner. Pat Crowley is also producing.
Molina is one of Hollywood's great character actors. He recently wrapped Disney's "The Sorceror's Apprentice" and will next be seen opposite a long-locked Jake Gyllenhaal in Mike Newell's ludicrous-looking "Prince of Persia."
• Stanley Tucci and Carla Gugino have joined the cast of "Margin Call," the corporate thriller from first-time writer-director J.C. Chandor that stars Kevin Spacey and Zachary Quinto, according to the latest issue of Production Weekly.
Last week, I wrote that the producers would have to surround Spacey and Quinto with a solid ensemble to pique my interest, and well, consider it piqued.
The film follows eight people at a prominent investment bank over a drama-filled 24-hour period during the early stages of the 2008 financial collapse.
Quinto is also producing with his Before the Doors Pictures partners Neal Dodson and Corey Moosa, as well as Joe Jenckes and Benaroya Pictures' Michael Benaroya and Robert Ogden Barnum.
Myriad Pictures' president and CEO Kirk D'Amico will exec produce with Laura Rister, Randy Manis and Washington Square Films' Joshua Blum. Production is scheduled to begin this summer.
• Get ready for the vampire version of James Bond!
Lucas Foster's Warp Films have acquired rights to Christopher Farnsworth's supernatural action novel "Blood Oath" with the aim of developing a feature franchise about a vampire secret agent, according to the Hollywood Reporter.
The novel follows Nathaniel Cade, a vampire captured by the U.S. Army just after the Civil War who is forced to swear an oath to President Andrew Johnson and has protected the presidency in the Secret Service for nearly 150 years.
It's an awesome premise that with the right cast, could make an awesome movie. Can't you picture some character leafing through the presidential history books and seeing this one ageless Secret Service agent in every photograph?
Cade is paired with a new human handler, and the duo find themselves caught up in a plot involving a monstrous new form of biological weapon with a connection to the White House.
Additionally, Foster has acquired rights to Farnsworth's follow-up "Black Site," which Farnsworth is still writing. Foster will develop both scripts simultaneously, and Farnsworth will work with the screenwriter to help guide the tone of the films. He'll receive an exec producer credit for his efforts, while his literary agent, Justin Manask, will be involved in a producing capacity.
Foster previously produced "Mr. and Mrs. Smith" and "Law Abiding Citizen," and hopes to put "Blood Oath" in production next year. Penguin/Putnam releases Farnsworth's book on Tuesday.
• The Match Factory has acquired "The Future," Miranda July's follow-up to "Me and You and Everyone We Know," reports IndieWire.
The film follows a thirty-something couple (July and Hamish Linklater) whose dreamlike state of existence together jeopardizes their relationship … whatever that means.
July offers a vague explanation that essentially boils down to how we sadly fail to recognize what we have right in front of us because we're always searching for something new.
Gina Kwon produced "The Future" with Gerhard Meixner and Roman Paul of Germany's Razor Films, in co-operation with Britain's Film4.
"Me and You and Everyone We Know" won awards at both the Cannes and Sundance film festivals, and was one of my personal Top-10 movies of 2005.