Harrison Ford better hope next summer's "Cowboys & Aliens" can resurrect his faded star. After 10 years of bombs, his career is on life support.
It's been a tough spell for the screen legend.
With the possible exception of "Indiana Jones and the Kingdom of the Crystal Skull," Ford has spent the last decade in the box-office wilderness. Moreover, though "Kingdom" made $786 million worldwide, it was far from universally loved.
"Firewall," "K-19: The Widowmaker," and "Hollywood Homicide" all arrived in theaters with a whimper. This year has brought the anemic double billing of medical drama "Extraordinary Measures," which grossed $12 million last winter on a $33 million budget, and last week's "Morning Glory."
The romantic comedy has stumbled to a $12 million gross since it premiered. At a cost of $40 million, "Morning Glory" has its work cut out for it if it hopes to break even.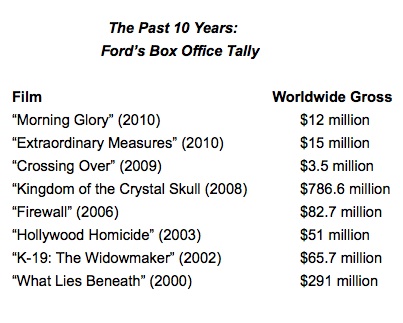 "His career is in the slow burn stages, and the demographics he courts don't rush out on opening weekend anymore," Jeff Bock, a box-office analyst with Exhibitor Relations, told TheWrap. "When Ford wears that iconic hat, he can still crack the box office bullwhip, but outside of Indy it's become a tougher case."
Of course, there's certainly evidence that given the right material audiences will turn up again. In fact, when he appeared last summer at Comic-Con to promote the upcoming Jon Favreau-directed "Cowboys," the fanboy-heavy crowd gave him a rapturous ovation.
"This is definitely a return to a kind of movie that fans are excited to see him in — an action role, that appeals to both geeks and mainstream middle America," Steven Weintraub, editor-in-chief of Collider.com, told TheWrap. "The truth is he's made bad choices and some of the movies he's been making weren't very good."
It's a long way from his fedora-wearing glory days, when the action hero ruled the box office with franchises such as Indiana Jones, Star Wars and the Jack Ryan films.
"You just get the feeling he doesn't care anymore," Devin Faraci, editor-in-chief of Badass Digest, told TheWrap. "He's steered clear of riskier fare, and even when he came back to a beloved character like Indy, he couldn't get that right."
Among the could-have-beens: "Insomnia," "Syriana," and "Traffic," which might have helped rejuvenate Ford's sagging fortunes by pairing him with A-list directors such as Christopher Nolan and Steven Soderbergh. Ford was involved with all of those films in their early stages of development.
One thing that has fanboys so excited is that "Cowboys & Aliens" will finally give Ford a filmmaker at the top of his game in Favreau. Moreover, it's no coincidence that the "Iron Man" director performed a similar act of career resurrection on Robert Downey Jr. just a few years ago.
"Favreau knows what he's doing. This is taking the genre and turning it on its head, " Weintraub said.
Of course, Ford's former fans worry that even if "Cowboys & Aliens" is able to connect with audiences in a big way, the actor will return to the same habits that made this past decade so forgettable.
"If though a stroke of good luck we warm up towards him again, he can always piss it away with five more generic releases," Faraci said.