Nerd god Chris Hardwick, 1990s rap icon Vanilla Ice and a gallant troupe of YouTube stars have the same mission this weekend – to turn the unknown Streamy Awards into the Golden Globes of online video.
That's why Tubefilter, which conceived the show to honor the best in online video and helped produce its first two iterations, has partnered with Dick Clark Productions, the company that produces the Globes, as well as the American Music Awards and the Academy of Country Music Awards.
Unlike those events, this show will not be broadcast — it will stream online — but DCP and Tubefilter have planned the event like a major awards show.
They recruited Hardwick (left), a popular figure with the young, male online community. A former radio DJ turned stand-up comedian and creator of Nerdist Industries, he is something of a professional emcee, hosting podcasts and TV shows — and an unavoidable presence at Comic-Con in San Diego.
Also Read: Ken Jeong, 'Halo,' Red Bull Take Early Streamy Awards (Exclusive)
They've set it at the Palladium, square in the middle of Hollywood, with an after party on the Sunset Strip.
Deep-pocketed companies like Coca-Cola have agreed to sponsor the show, adding a veneer of credibility to a show three years removed from disaster.
Technological glitches, tasteless jokes and streakers marred the 2010 edition, prompting the board of directors of the International Academy of Web Television, which produced the show, to pen a self-lacerating memo.
"Last night in the end was a step backwards for all of us," Michael Wayne, the board of directors for the IAWTV, wrote. "Like you we watched the show with great embarrassment as our industry was ridiculed and debased."
He concluded with: "I hope you will judge us not by how hard we have fallen, but by how well we get up, dust ourselves off, and learn from our mistakes."
Also Read: Sundance 2013: Are Filmmakers Vain or Nostalgic? The Digital Distribution Dilemma
Yet IAWTV abandoned the show, launching its own awards that occur during January's Consumer Electronics Show in Las Vegas. The Streamys took three years off, and Tubefilter brought in DCP to, in the words of DCP's Ariel Elazar, "reinvigorate the brand."
Still, doubts remain.
"An awards show should highlight the best of what it's honoring for the public outside of that community to have an understanding of what's going on. Because of problems over the last few years of shows attempting to do that and failing miserable, we may still be too early," Rafi Fine, who with his brother Benny constitute popular YouTubers The Fine Brothers, told TheWrap.
The Fine Brothers created original video content for each of the first two shows, and though apprehensive, expressed some optimism that the show has found the right formula. They are nominated nine times and are also presenting.
Tubefilter co-founder Drew Baldwin said the first two shows suffered because they were tailored to people in the industry rather than outside fans.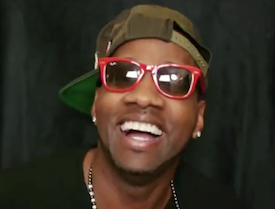 Taking a cue from the Grammys and AMAs, they hope to overcome that problem with Hardwick and memorable musical performances. The lineup mixes well-known musical acts like Vanilla Ice and Soulja Boy with YouTube talent, such as DeStorm (right) and Mike Tompkins.
"At the Golden Globes, Dick Clark brought out Bill Clinton, and it was one of those moments where everyone was freaking out," Baldwin said.
While few would equate Vanilla Ice with the former president, the goal this year is to inspire through collaboration. Just as the Grammys pair iconic musicians with up-and-comers, Streamy producers hope pairing nouveau digital stars with more mainstream talent will push the awards toward the mainstream without alienating its core audience.
The third edition of the Streamys arrive at a golden time for the online video industry. Premiere Hollywood talent has jumped into the space, writing, directing, producing and starring in shows for YouTube, Yahoo and others. YouTube stars like The Annoying Orange and Fred have amassed enough fans on YouTube — with millions of subscribers – to cross over into television and film. Successful shows like Yahoo's "Burning Love" are screening at film festivals like South by Southwest.
"The YouTube culture, in a way, does shun television culture and other forms of media," Corey Moss, vice president of digital at Principato-Young, which manages talent and produces shows, told TheWrap. "There are fans of KassemG and Toby Turner who don't want their idol to start popping up on TV or awards shows. On the opposite end of that, there are people making great digital content with A-list Hollywood talent who would appreciate that their talent is recognized."
To please both sides, Dick Clark and Tubefilter have created separate awards for user-generated content and higher-budget series.
So, for example, in the Best Host category, old media stalwart Larry King will compete against YouTube sensation KassemG and the relatively unknown Mark Malkoff.
The Best Comedy Series category pits "Burning Love," a Yahoo series whose backers include Ben Stiller and Paramount, against "MyMusic," a channel from the Fine Brothers (right), YouTube pioneers unknown to wide swaths of the population.
"Every time I've seen the nominees list for the Streamys or IAWTV it made me go 'we're nowhere,'" Benny Fine told TheWrap. "Until the Streamys this year where I felt OK. It could be the first time outsiders looking in have something to really look at."