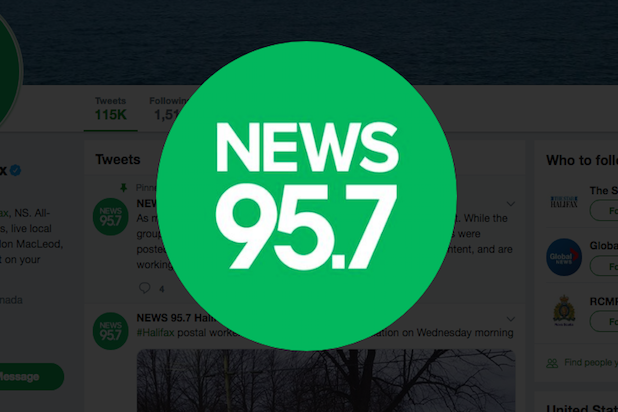 A Canadian radio station apologized Wednesday morning after its Twitter account was hacked and "racist and hateful" content was posted.
"As many of you know, our Twitter account was hacked late last night. While the group had access to it, a number of crude, racist and hateful tweets were posted,"Halifax, Nova Scotia's NEWS 95.7 said in a statement. "We at NEWS 95.7 sincerely apologize for the abhorrent content, and are working to ensure this does not happen again."
The station also pinned the apology to the top of its account to ensure it received maximum visibility. NEWS 95.7 did not immediately respond to additional inquiries from TheWrap.
Also Read: Was the Disney Careers Twitter Account Hacked by an Elon Musk Superfan?
The hacked tweet wasn't there for long, but it was up long enough for eagle-eyed followers of the station to take screenshots — and it wasn't pretty.
"URGENT NEWS ALERT: Justin Trudeau has ordered that all n—–s across the country be immediately and swiftly executed," read the tweet. 'They're dirtying my country,' says PM Trudeau," it continued.
In a follow-up tweet, the hackers declared themselves working for the Twitter account @realiceposeidon, an account belonging to popular YouTube personality Paul Denino.  While it's unclear whether Denino was personally involved, his fans have been known to cause trouble for him in the past.
Denino has not commented on the matter.
Also Read: Steve Mnuchin Deletes GM-Bashing Retweet, Suggests His Account Was Hacked
In 2017, he was banned from the live streaming service Twitch after one of his followers called in a bomb threat to an airline in his name. The practice, commonly known as swatting, has resulted in several accidental deaths over the years.
In the comments of NEWS 95.7's apology tweet, Howard University lecturer Victoria Walker offered some unsolicited advice.
"Two-step verification, folks," she said. "Turn it on."