It's day seven of the Cannes Film Festival,  you guys, and marathons abound.
TheWrap is continuing non-stop coverage of the competition, from the splashy premieres and the big budget deals. The marathon red carpet appearances of Nicole Kidman who has a staggering four titles at the festival this year. And, of course the awesome marathon of Jane Campion's anticipated sequel to her stunning Elisabeth Moss-led BBC series "Top of the Lake," which premiered Tuesday.
Strap on those velvet loafers and heels and let's sprint down the Croisette, with only four days until the finish line.
Back on "Top"
Moss has been everywhere lately for Hulu's big gamble, the horrifyingly timely dystopian series "The Handmaid's Tale." All those evil bonnets and crimson gowns make it easy to forget she's also starring in a limited sequel to Campion's dark and terrific "Top of the Lake," which is also currently available on Hulu.
Also Read: Michael Shannon Bigfoot Dramedy 'Pottersville' Headed to Netflix for Streaming Rights (Exclusive)
The first run came courtesy of the BBC in 2013, picked up by the Sundance Channel in the U.S., and served as a warning bell that Moss was a tempest in a teapot — one soon to be liberated by the 2015 end of her landmark series "Mad Men."
The detective tale set in New Zealand centered on various kinds of violence against women and children, and was a foreshadowing of the grim and satisfying whodunnits that streaming series and cable networks now develop, chew and swallow up at admirable rates.
Campion and her star Moss return with another run and brought their wares to Cannes. They also brought new costars in Gwendoline Christie and 2017 Cannes MVP Kidman.
Here's what people had to say about the screening of all six episodes, back-to-back, with one intermission:
First intermission of TOP OF THE LAKE: CHINA GIRL. Campion, Moss, Christie etc watching all 6 hours with us. so far SO good. #Cannes2017

— david ehrlich (@davidehrlich) May 23, 2017
1st 2 episodes of Top Of The Lake were awesome. Wacky, different and so damn interesting. Can't wait to see more. All hail Jane Campion.

— Melissa Silverstein (@melsil) May 23, 2017
A strict "no water" policy at #Cannes2017… unless you're seated for all 6 hours of TOP OF THE LAKE: CHINA GIRL. pic.twitter.com/IqBYrTiZyN

— david ehrlich (@davidehrlich) May 23, 2017
Sadly couldn't stay for the whole TOP OF THE LAKE: CHINA GIRL marathon, but what I saw is moody and funny and weird and great. #Cannes2017

— Richard Lawson (@rilaws) May 23, 2017
In good news, just saw first two episodes of Jane Campion's new Top of the Lake: China Girl #Cannes2017. Gripping and very eccentric

— Kate Muir (@muirkate) May 23, 2017
Class Photo Magic
You may have heard that Cannes turned 70 this year. But it's show business, so it looks a lot closer to mid-40s in an avoid-the-sun kind of way.
To mark the occasion, the festival arranged a class photo of such magnitude we're still not done looking at all the angles. Here are our favorites …
Adrien Brody Distracted by Something on the Beach
When You're Late for Brunch and They Would Not Seat Your Friends Without You
Salma Hayek is like, "This is the bad guy from everything, right?"
When Jessica Chastain thinks it's a photo but it's actually taking video
When Jane Campion Teaches Cannes Artistic Director Terry Fremaux About "Yas!"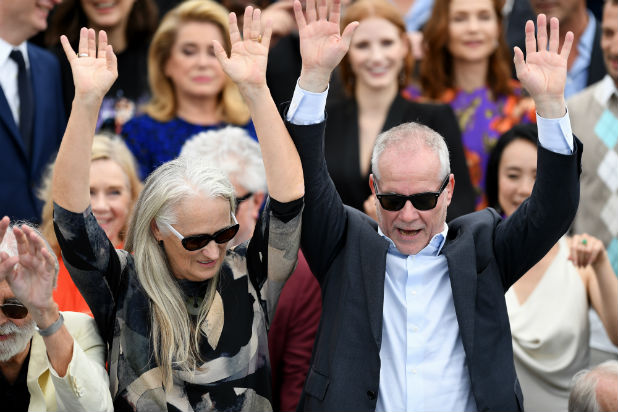 When Colin Farrel, Tilda Swinton and Charlize Theron Definitely Make Plans for Later — Just the Three of Them