The Elton John biopic "Rocketman" has finally hit the Croisette, and not quietly, either — Dexter Fletcher's film debuted to thunderous applause and a standing ovation, with many praising Taron Egerton's performance as the famed singer.
Egerton and John also took the stage at the film's after party to sing John's song "Rocket Man," video of which you can see below.
The third day of the Cannes Film Festival has come and gone, and it was quite busy — films like "Sorry We Missed You" and "Atlantics" debuted (the latter of which received dazzling reviews), and more films were announced that would launch sales at the festival, including a Glenn Close/Mila Kunis starrer ("Four Good Days") and a heist thriller starring Cara Delevingne titled "Punk."
Also Read: Cannes Report, Day 2: 'Les Miserables' and 'Bacurau' Start Strong, John Carpenter Takes a Bow
No one has walked out of a screening — yet. If you recall, Lars von Trier's "The House That Jack Built" prompted scores of walkouts at the festival last year, with people describing the film as "Gross. Pretentious. Vomitive. Torturous. Pathetic."
See below for the highlights from Cannes, day three: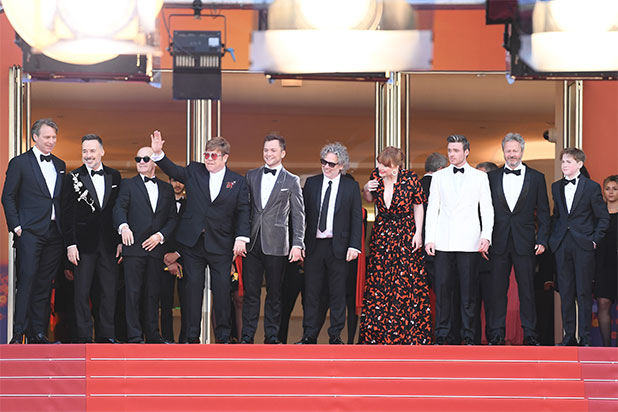 "Rocketman" Debuts to Thunderous Applause
"Rocketman," the biopic about Elton John's life and career, premiered to thunderous applause and a standing ovation Thursday. "Just hit the world Premiere of #RocketMan at #Cannes2019 & boy you are in for a treat," one viewer wrote on Twitter. "What a wonderfully acted & directed treat of a brilliant story."
Egerton stars as Elton John in the biopic. "Bohemian Rhapsody" director Dexter Fletcher helms the musical fantasy written by Lee Hall that also stars Jamie Bell, Richard Madden and Bryce Dallas Howard. John and Egerton then took the stage at the film's after party to perform "Rocket Man."
Elton and Taron singing #Rocketman pic.twitter.com/AtmoLXgB0D

— Rebecca Keegan (@ThatRebecca) May 16, 2019
Wow, this was incredible. Taron Egerton performed #Rocketman with Elton John on the piano. #Cannes2019 pic.twitter.com/ceejeiuqaa

— Ramin Setoodeh (@RaminSetoodeh) May 16, 2019
You can read more reviews here.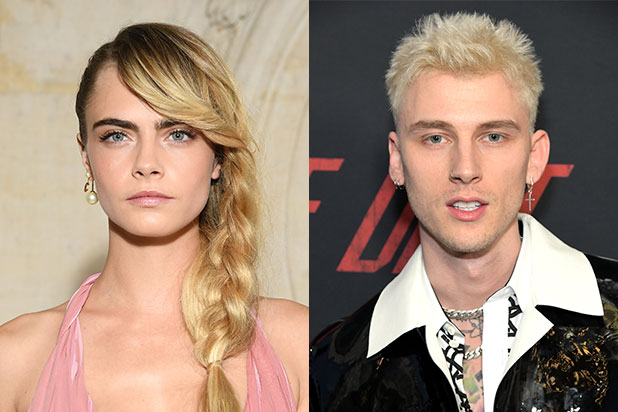 Cara Delevingne Is Back
Cara Delevingne and Colson Baker, also known by his rap stage name Machine Gun Kelly, will team up for a heist thriller titled "Punk," producers announced Thursday to attract buyers at the festival.
Sylvester Stallone is set to executive produce the thriller, set to shoot later this year. Richard Hughes will direct "Punk," which follows a guy who receives a rejection letter and takes off on a road trip with runaways. He soon discovers, though, that the runaways are a band of bank robbers.
Hughes also wrote the screenplay.
Also Read: Cannes Report, Day 1: 'The Dead Don't Die' Star Bill Murray Calls Fest 'Frightening'
"Atlantics" Premieres to "Dazzling" Reviews
On Thursday, "Atlantics," Mati Diop's feature-length directorial debut, premiered at the Cannes Film Festival. Reviews have been good, with many pointing out that its early debut will boost the film's sales in the coming days or weeks.
TheWrap's film critic Ben Croll wrote: "The specifics and particulars of any lived experience help shape an artist's voice, giving them unique points of view that enrich their art. And such is the case with 'Atlantics,' a film that deftly entwines a new take on the refugee crises with a look at young female adulthood, and layers it with a dose of West African folklore."
Screen Daily's Allan Hunter wrote: "Diop captures the dusty bustle of life on the streets of Dakar and the way traditional and modern constantly rub shoulders. She also finds space for more contemplative moments in images that underline the elemental power of the wind and sea. Constantly intriguing, 'Atlantics' successfully blends its disparate elements of love story, ghost story and female empowerment into a distinctive, involving drama."
IndieWire's Eric Kohn said: "Diop's first feature doesn't always fit together from a narrative perspective, but it musters such an absorbing vision of an alienated seaside life that not everything needs to add up for the atmosphere to take hold. 'Atlantics' takes the form of a dazzling ghost story in which everyone's haunted by the desire to escape."
Also Read: 'Atlantics' Film Review: Mati Diop Offers Poetic New Take on Refugee Tale
The French-Senegalese filmmaker previously explored her subject matter in her 2009 short of the same name. "Atlantics" follows the departure of a young native of Dakar who has to leave his country by sea in the hopes of a better life.
"Sorry We Missed You" Premieres
Ken Loach's "Sorry We Missed You" also debuted on Thursday, to great reviews. The film was written by Paul Laverty and produced by Rebecca O'Brien.
"Loach comes to Cannes in an enviable position but also an odd one. Along with the Dardenne brothers' 'Young Ahmed,' 'Sorry We Missed You' is one of the two main-competition entries that could set a new record by winning a third Palme d'Or for its director, following Loach's wins for 'The Wind That Shakes the Barley' in 2006 and 'I, Daniel Blake' in 2016," TheWrap's Steve Pond wrote in his review.
Screen Daily said "Sorry We Missed You" is one of Loach's "best films," and The Telegraph's Robbie Collin said the films finds Loach at "his most insightful and most clear-eyed."
Glenn Close and Mila Kunis to Star as Mother and Daughter in Drama 'Four Good Days'
On Thursday, it was announced that Glenn Close would be teaming up with her "Albert Nobbs" director Rodrigo Garcia for the drama "Four Good Days," in which she and Mila Kunis will star as mother and daughter.
In the film, Close will play Deb, a mother helping her daughter Molly (Kunis) overcome a substance addiction by trying to nurse her through four good days that will be crucial to her road to recovery.
Capstone is launching sales on the film at the Cannes Film Festival.