The Directors Guild of America has chosen the host for its 62nd Annual DGA Awards.
It's the same guy who has hosted 22 of their previous shows.
Carl Reiner, an institution at DGA Awards shows for decades, will reprise his usual role at the upcoming ceremony, which takes place on Saturday, January 30 at the Hyatt Regency Century Plaza in Los Angeles.
Guild president Taylor Hackford also announced the lineup of presenters: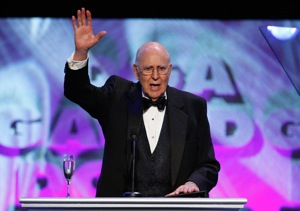 Jane Alexander
Jason Bateman
Danny Boyle
Julie Bowen
Gil Cates
Jodie Foster
Taylor Hackford
Christina Hendricks
Cheryl Hines
Robert Iger
Anna Kendrick
Lea Michele
Matthew Morrison
Carey Mulligan
Christopher Nolan
Paula Patton
Donald Petrie
Brad Pitt
Jeremy Renner
Zoe Saldana
Gabourey Sidibe
Jesus Trevin?o
Christoph Waltz
Sam Worthington
Robert Zemeckis
(Reiner photo by Vince Bucci/Getty Images)