"CBS This Morning" celebrates its five-year anniversary this week. And despite placing behind rivals "Today" and "Good Morning America" among total viewers, executive producer Ryan Kadro says it's only a matter of time before the show gets out of the basement.
He also cheekily admitted that it "sucks" being in third place.
"Our growth is fairly unlimited at the point," Kadro told TheWrap. "People are still discovering the show and you can't say that about the other brands."
The CBS morning show, co-hosted by Charlie Rose, Gayle King and Norah O'Donnell, aims to offer an alternative to its sometimes-gimmicky rivals with what Kadro refers to as "relevant" news that "seeps into people's lives."
Also Read: Lady Gaga Breaks Down in Tears on CBS: 'I Miss People'
"They're getting, you know, news in a smart, intelligent way and not in a silly way," Kadro said. "You do that by having the right bookings, asking the right questions, being smart, being in the moment and being forward-looking."
Season to date, "CBS This Morning" is averaging 3.7 million viewers per day, an increase of six percent over last year, and 1.1 million more than when it launched in 2012. Kadro recently told staffers that he wants to average over four million viewers per day, a now-obtainable goal that would have been unrealistic when the show launched on Jan. 9, 2012.
"The 'Today' show has been on for 60 years, we've been on for five. 'Good Morning America' has been on for 40 years," Kadro said. "People are familiar with those brands and they know them, they've made decisions about them. I think if you look at the way the audience has eroded for both those shows over the course of five years, people are tuning away from them."
Also Read: Chris Licht Joins 'Late Show' as Showrunner; Ryan Kadro to Lead 'CBS This Morning'
During the fourth quarter of 2016, "CTM" posted its most-watched Q4 morning news show in at least 29 years. CBS finished 2016 the closest its has been to NBC's "Today" show in at least 29 years and the closest "GMA" in 18 years.
"We want to be out of third place because it sucks being in third place and we know how good our show is," Kadro said. "Our growth is going to continue, because more people are finding out about the show. It's not a legacy brand, it's not a legacy show, so there is still a sense of discovery about it."
During the 2015-16 season, "CTM" was the only network morning news broadcast to post year-to-year gains in viewers and all key demos. "CTM" grew seven percent in viewers and 13 percent among the key news demo of adults age 25-54, while "GMA" lost viewers in all measurables and "Today" fell two percent in viewers.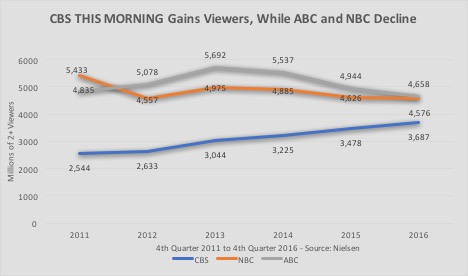 One aspect of broadcast morning news that "CTM" crushes its rivals in is stability. While "Today" and "GMA" have often-changing groups with co-hosts that have included everyone from Billy Bush to Michael Strahan, the CBS crew has gone unchanged since O'Donnell was added in mid 2012.
Also Read: Why Tucker Carlson Was Annoyed by Meryl Streep's Golden Globes Speech (Video)
"I think for a long time the trend was to go bigger, and louder, and flashier," Kadro said. "I think audiences kind of tired of that… here we came along at the right time with a team that just has the kind of chemistry that you find amounts a really good group of friends."
Kadro said growth won't max out until "everybody in America has had a chance to sample the show" and his viewers "know what they're getting" on a regular basis.
"CBS This Morning" added more than a million viewers over the last five years while NBC's "Today" show has lost roughly 850,000 over the same time period.
Despite familiar talking points, Kadro claims he's not sick of discussing the growth of his show.
"We work so hard to put this show together… what is produced every morning, we are so passionate about," he said.