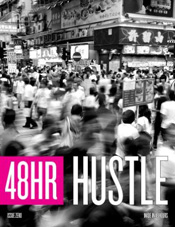 A few weeks, a group of enterprising journalists launched a little crowdsourced experiment with the goal of creating a print magazine — start-to-finish — in 48 hours.
The name of the magazine: 48 HR.
When they shipped the magazine to the printer, there were some stories about it. (Click here for behind-the-scenes and here for historical perspective.)
It seemed like everyone in Mediaville was rooting for these young turks. Everyone except CBS.
On May 11, Lauren Marcello, the assistant general counsel at CBS sent a cease and desist letter, noting that "CBS is the owner of the rights in the award-winning news magazine televison series, '48 Hours,' and its companion series, including '48 Hours Mystery,'" adding later in the letter, "your use is unlawful and constitutes trademark infringement, dilution and unfair competition …" along with a lot of other complicated, vaguely threatening legalese.
Common sense would seem to dictate that there would be no confusing an "award-winning" television newsmagazine owned by big bad CBS and an admittedly rinky-dink on-demand magazine experiment. Not to mention they don't technically have the same name.
"To be honest, none of us even knew that there was still a program called '48 Hours,' so it never crossed our mind," Mathew Honan, one of the project's creators, told the Times.
I didn't know it was still on the air.
It's just another example of big media acting overzealous to protect their interests, and for lawyers to justify their retainers.
Give these kids a break.
Honan added: "The unfortunate truth I guess is … you can't do anything really large-scale in contemporary society without having a legal team and a corporation."