Veteran television executive Peter Chernin will conduct a one-on-one conversation with Comcast Corp. chairman-CEO Brian Roberts (below) at a Newsmaker Brunch on May 11 to kick off the Cable Show 2010.
The event is co-sponsored by the Hollywood Radio & Television Society and the National Cable & Telecommunications Association as part of the NCTA's annual Cable Show, being held May 11-13 at the Los Angeles Convention Center.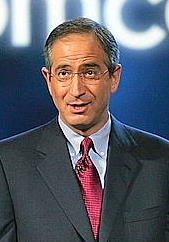 Chernin is founder and owner of Chernin Entertainment and the Chernin Group. He previously was president and chief operating officer of News Corp. and chairman-CEO of the Fox Group.
"The combination of Peter Chernin and Brian Roberts, two renowned executives in the industry, will surely provide our members with an opportunity to listen in on an especially significant conversation about the state of the business," Kevin Beggs, HRTS president, said in a statement
"This newsmaker brunch is the perfect way to kick off The Cable Show as we return to Los Angeles for the first time since 1996," said Barbara York, senior VP of industry affairs for the NCTA.
For ticket information, go to www.thecableshow.com/hrts-brunch.
Other events during the Cable Show include the May 12 general session, "Media Everywhere: Implications of the Always-On Network." Scheduled for 9:15-10:30 a.m. at the Nokia Theater at L.A. Live, it will feature speakers including Time Warner's Jeffrey Bewkes, CBS Corp.'s Les Moonves, DreamWorks Studios' Stacey Snider and Comcast's Roberts.
At the same time and place on May 13, FCC chairman Julius Genachowski will be the keynote speaker on "Conversation 2.0: Community, Collaboration & the Future of Media." He and moderator Matthew Blank of Showtime Networks will discuss research and findings surrounding integration of social media and traditional television. Panelists include Ari Emanuel of William Morris Endeavor Entertainment; Sony Pictures Entertainment's Amy Pascal; TiVo's Tom Rogers; and Twitter's Evan Williams.