The Chicago Sun-Times and its sister publications will become the latest newspapers to go behind a paywall, using a "metered" plan that bears some resemblance to the New York Times' strategy.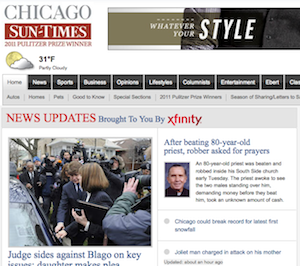 The Sun-Times' websites will grant users 20 free page views every 30 days and charge for anything beyond that.
The big difference with this plan is that print subscribers will still have to pay for the online content.
"It's no different than selling print subscriptions to subscribers," Sun-Times Media Chairman and CEO Jeremy Halbreich told TheWrap. " We think our content is of high enough quality and consistency that it merits asking consumers to pay for it."
Online-only subscriptions will cost $6.99 every four weeks (or $77.87 for the year); online subscriptions will cost print subscribers $1.99 every four weeks.
Subscribers to any of the Sun-Times' 40 newspapers qualify for that discounted rate.
Also Read: Chicago Sun-Times Sale OK'd by Bankruptcy Judge
The Sun-Times' need for a new revenue stream is apparent to anyone following the Second City's second major daily paper. It has laid off hundreds of staffers over the past couple of years, though Halbreich recently told Crain's Chicago Business Daily that layoffs are over for now.
The Sun-Times is also in the process of shifting to the printing press of the rival Chicago Tribune to cut costs.
Halbreich told TheWrap that this move was not a result of any immediate financial need.
"We remain a $200-million-plus enterprise," Halbreich said. "If anyone takes pencil to paper and takes these numbers and thoughtfully comes up with a reasonable number of expected subscribers who will pay at the paywall … it's important revenue, but compared to the size of our organization it's pretty much immaterial."
Newspapers are still divided over the efficacy of paywalls. The Wall Street Journal and Financial Times are two success stories, and it appears the New York Times' strategy is paying off as well.
At a slightly smaller level, the Minneapolis Star-Tribune just released some optimistic figures, as well. While ad revenue declined due to drops in traffic — the real fear with a paywall — the money from subscribers made up for it.
Halbreich said he does not fear a substantial dip in ad revenue.
"What's the downside of putting up a paywall?" Halbreich said. "Maybe you reduce some of your online traffic … There will be a dip for a month or two but then it bounces back. It won't affect our online advertising or other e-commerce revenues."
The Sun-Times will provide a new test for the model given that it does not have the same hold over its market that the Star-Tribune does over Minneapolis-St. Paul.