The movie industry is abandoning its quest for broad new legislation against piracy in the face of the battle last year over the Stop Online Piracy Act, MPAA Chairman-CEO Chris Dodd said Friday.
"Having a brawl in Congress doesn't make a lot of sense," Dodd told TheWrap, shortly after telling a National Press Club audience that he "wasn't enthusiastic" about moving forward with legislation.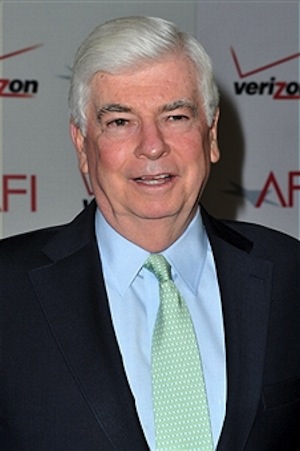 Dodd suggested that the movie industry is still talking in Congress about ways to help better fight online piracy, but suggested those talks would not lead to any legislation with the scope of the Stop Online Piracy Act and that progress could come through other means.
Last year the movie industry lost a protracted fight with internet portals and computer companies over SOPA legislation. That legislation was intended to make it easier for studios to take down content that infringed on copyrights.
While MPAA and its supporters said SOPA would help ensure copyright violations could be quickly halted, critics questioned the ease with which content could be removed. They warned that procedures in the legislation could create a problem where legal content as well as illegal content could be pulled from the Web.
After initially winning significant Congressional support for its measure, the MPAA saw much of that support erode and some legislators sign up in opposition.
Dodd on Friday indicated the lesson from the fight hadn't been lost on the MPAA.
"I'm looking for a much different approach," Dodd told The Wrap
In a question and answer session after a speech at the National Press Club, Dodd said that the protection of the rights of creators and an open Internet should be mutual goals. "We need both content and technology," he said.
Also read: MPAA Sounds Piracy Alert for Kim Dotcom's New File-Sharing Site
"We must strike a balance between the desire for a free and open internet and the protection of intellectual property," he said. "The future cannot be about choosing one over the other –between protecting free speech OR protecting intellectual property–it must be about protecting both."
Dodd also offered a defense of "Zero Dark Thirty", saying that movies have a right to employ "poetic license."
Three senators have questioned a scene in the film that suggested torture helped provide some of the information that led to the U.S. raid on Osama bin Laden's compound and the al-Qaeda leader's death.
"It is a movie. There is a lot of poetic license in creation of this life force. This isn't a documentary," he said.
Calling the film industry "iconic," Dodd cited not only its creative accomplishments but its importance to the country's economy.
Dodd also suggested that the combination of theaters, cable, TV, the Internet and mobile was providing consumers an incredible number of content choices.
"I'm not exaggerating when I say a new Golden Age in television and film is being ushered in," he said. "You can watch more content than ever, through more channels, and the quality of the movies and TV shows is outstanding."