"Thor" star Chris Hemsworth (below), "My Week With Marilyn" lead Eddie Redmayne and "Midnight in Paris" supporting actor Tom Hiddleston are among the five actors who will compete for the Orange Wednesdays Rising Star Award, BAFTA announced on Wednesday.
The three were joined by Adam Deacon ("Adulthood," "Anuvahood") and Chris O'Dowd ("Bridesmaids") in the nominations, which were determined by votes from customers of "Orange Wednesdays," a two-for-one movie ticket discount service offered by the British telecommunications company Orange. The company sponsors BAFTA's Orange British Academy Film Awards.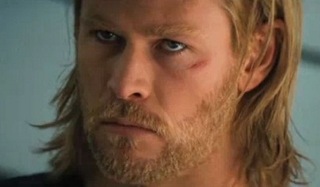 The Rising Star Award is the only BAFTA honor voted on by the public. Past winners include James McAvoy, Kristen Stewart, Tom Hardy and Shia LaBeouf.
The awards will be handed out on Sunday, February 12 in London.
This year's nominees, with descriptions from the BAFTA press release:
ADAM DEACON -Hackney-born Adam rose to fame in Noel Clarke's KIDULTHOOD, before reprising the role in the follow-up ADULTHOOD and again working with Clarke in 4321. Adam then went onto make his own mark on the film industry byco-writing, directing and starring in Brit comedy and box office success ANUVAHOOD.
CHRIS HEMSWORTH -Australian actor Chris became an overnight success after landing the title role in film version of the Marvel comic THOR and he will reprise the role in THE AVENGERS next year. Chris is next starring in SNOW WHITE AND THE HUNTSMAN opposite Kirsten Stewart and Charlize Theron and will play Formula One driver James Hunt in Ron Howard's RUSH.
CHRIS O'DOWD - Chris began his career in thecult comedy series THE IT CROWD before breaking into film with roles including THE BOAT THAT ROCKED, GULLIVER'S TRAVELS and hugely successful BRIDESMAIDS. Chris will next be seen in Judd Apatow's THIS IS 40 alongside Paul Rudd and Leslie Mann.
EDDIE REDMAYNE - After receiving much critical acclaim on the West End and Broadway stage Eddie burst onto the film scene inMY WEEK WITH MARILYN alongside Michelle Williams, Dame Judy Dench and Kenneth Branagh. He recently finished filming BIRDSONG the BBC adaptation of the acclaimed novel by Sebastian Faulks and will soon be starring in the film version of the musical LES MISÉRABLES.
TOM HIDDLESTON-RADA graduate Tom broke onto the big screen earlier this year in Kenneth Branagh's THOR. Tom's recent projects include Woody Allen's film MIDNIGHT IN PARIS, Steven Spielberg's WAR HORSE, and THE DEEP BLUE SEA opposite Rachel Weisz. Tom has recently finished filming THE AVENGERS which is due for release in May 2012.