If you've spent any time trying to find the connections between director Chris Weitz's last film, "Twilight Saga: New Moon," and his latest, "A Better Life" — which pivots on the subject of illegal immigrants — you may have gotten so stuck that you've given up on the auteur theory.
But the link is there, if you look. "There's a lot of discrimination in both films," Weitz told the audience at a Q&A following a showing Thursday of "Better Life" at the Landmark Theater, part of TheWrap's Awards Screening Series. "Vampires are discriminated against."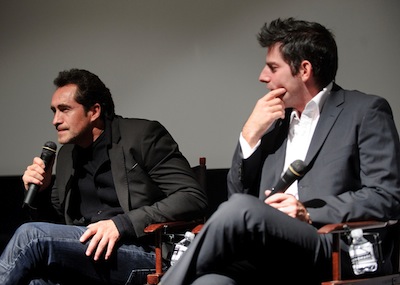 The discussion's moderator, TheWrap's Editor-in-Chief Sharon Waxman couldn't help pointing out a "very strange coincidence." Playing right next door was "the spawn of one of Chris' earlier films," i.e., the newest "Twilight" sequel — "and they're from the same studio.
(At left, Weitz with Demian Bichir, star of "A Better Life," at TheWrap's screening.)
Funnily enough," she said, "we have the head of the studio (Summit) standing just outside the door between the 'Better Life' and 'Twilight' screenings."
"Guess where he is," Weitz cracked.
There's no doubt that one of Weitz's projects has produced far greater returns for the studio than the other. "New Dawn" grossed just a werewolf hair shy of $300 million in domestic gross alone. "A Better Life" topped out at closer to $2 million after expanding to just over 200 screens this past July — but that's about what you might expect for a low-budget indie with an almost entirely non-Anglo cast and a tough illegal-immigration theme.
But the personal satisfaction level for Weitz surely inordinately tips in the opposite direction, given how the film has contributed to the debate over immigration.
Moreover, the DVD release of the film is reaching the Mexican-American audience in a way the initial specialty release never could. And there's hope among Oscar prognosticators and critics that buzz about the deeply affecting lead performance by Bichir will break through Hollywood's white ceiling.
Bichir — who plays an undocumented gardener with a thoroughly Americanized teenage son in "A Better Life" — is a theatrically based actor who made it big in the movies in Mexico. On this side of the border, though, he's best known for portraying the mayor of Tijuana on "Weeds" and Fidel Castro in Steven Soderbergh's "Che."
Weitz was desperate to get Bichir for his film after seeing the Castro performance … but first he called him in on a different project.
"I remember having this call from my agents about meeting with Chris Weitz," Bichir told the capacity crowd at the Landmark. "He was doing 'New Moon'. So they called me to audition for that, as one of the vampires. That's how we met. I remember getting to my meeting with Chris, and he started talking to me about this gardener. We were already talking about it for 20 minutes, and I just couldn't understand, so I was asking myself: Is this a gardener vampire? Who sleeps at night under the palm trees?"
Bichir puts this up with his role in 'Che' as one of the two defining parts of his career – taking particular delight in how opposite the characters are.
"Fidel Castro is this character, unlike Carlos Galindo, who wants to make sure you listen when he talks and wants to make sure that you know that he exists," Bichir said. "Carlos Galindo wants to make sure that he transits through life in a rather invisible kind of way."
Weitz acknowledged that "of course there are some similarities to 'The Bicycle Thief'," since the entire middle act is driven by Galindo's attempt to reclaim the stolen truck he'd just bought to establish his own gardening business.
Ultimately, his mania about the truck leads to his becoming not so invisible to the immigration authorities, prompting a separation between father and teenaged son and a jailhouse reconciliation that represents a crack in the gardener's theretofore reserved façade.
Weitz didn't just make the film out of West L.A. white guilt, though. As he pointed out, his grandmother was from Mexico — married to his grandfather, a refugee from Nazi Germany. "I was part of the first generation of my family not to speak Spanish, so it was going to be an excuse for me to learn a bit more about my culture," the filmmaker said.
But beyond that, "I did have this sense of something being out there east of where all the white people were. My experience of East L.A. had been, 'Oh, you've gotta go to La Serenata de Garibaldi (a Yelp-beloved restaurant that got knowing murmurs from the decidedly West L.A. Landmark audience), but be careful when you get out of your car.'…
"Los Angeles is a horizontal city," he continued. "I grew up in a vertical city, New York, where we're livng on top of one another and you sort of have to get to know your neighbor. Here, it's much easier to self-segregate … Even the roads are built to keep people apart."
Bichir said he runs into and talks to undocumented workers on a daily basis in every American city he's in. Typically, they talk to him about the films that made him a star in Mexico. "My [fellow Mexican immigrants] work so hard, they don't have time to say, 'Okay, I've finished working, I want to go to the movies!' They want to go straight to the sofa or bed. But they do rent the film. Now that it's out on DVD, just in the last couple weeks, I've been getting it all the time: 'Oh, I just saw that film!'"
He relates to their experience – a little – because he, too, was technically an undocumented worker when he came to the U.S. at age 22 to work in the theater, with a visa but no work permit. "I'd never made a guacamole in my life, but I got a job at Rosa Mexicano in Manhattan" (cue another appreciative murmur from this bicoastal audience) "making guacamoles. I thought, when I make it big, this is where I'm going to come back to eat! And that's what I do every time I'm in New York, and I leave a big, juicy tip."
Unlike a lot of the guys who are preparing those meals now, "I had the chance to apply through the amnesty process that went on in 1986. And seven years ago, I became an American citizen, because I wanted to be able to vote. It means something, when you see the absurd laws against this extraordinary community of human beings happening in this country."
Those laws – or the lack of them, when it comes to the failed Dream Act – were inevitably a big subject of the Q&A.
"The reason I was grimacing when you asked the question," Weitz told Waxman, "is that I just got back from Arizona, meeting with some of the 'dreamers' there. I was thinking about how the Dream Act was initially championed by John McCain. There were 23 Republican senators in favor of it two years ago, and now there are none. To set this in a rather humorous context, I remember Eric Eason, the screenwriter, being worried that we weren't getting the film ready in time, because he was like, 'What if they just sew up this whole immigration thing before the movie comes out? We've got to get this movie done!' I said, 'Eric, I think we're in for a long ride. It's okay.'"
Asked by an audience member what he hoped 'A Better Life' might spur viewers to do, Weitz replied: "The eventual aim is not just to be nice to illegal immigrants—although I recommend that." (The guy responsible for 'American Pie' can't resist putting his tongue slightly in cheek once in a while.)
"First of all, I hope people recognize this word illegal, especially when used on its own, is the I-word — the N-word – and don't stand for it. And then, to make it known to your representatives in congress and at the city, state and local levels — if you agree with me — that what is going to solve this is comprehensive immigration reform…
"What's being suggested by the Republicans is an enforcement-first method," Weitz added. "I don't believe that works. The budget for arresting and deporting undocumented immigrants has gone up 700% in the past 10 years, and it hasn't changed the immigrant (problem) at all. In other words, to put it in Republican terms, your tax dollars are being wasted."