Watch out, Donald Trump — Det. Stabler is on your case.
"Law & Order: SVU" alum Christopher Meloni eviscerated the new president on Tuesday, tearing into Trump over his plans to build a wall between the United States and Mexico.
In a profanity-laced tirade, the actor referred to Trump as a "f—ing d—."
Also Read: Joss Whedon Under Fire After Comparing Ivanka Trump To A Dog
The actor took pains to say that he was doing so "with all due respect."
"With all due respect – shut up u f—ing d—," Meloni tweeted. "Ur damaged goods and only Putin and idiots and brown Nosers believe in u."
The actor ended his rant with the hashtag, "#TooHarsh?"
Also Read: Watch Kellyanne Conway's Cringeworthy Stand-Up Routine From 1998 (Video)
Meloni was responding to a Trump tweet reading, "Big day planned on NATIONAL SECURITY tomorrow. Among many other things, we will build the wall!"
On Wednesday, Meloni went after Trump's supporters, reacting to a story reporting that the USDA had been prohibited from sharing data with the public.
"So Trumpets explain to me: how is censoring OUR govt giving govt back to the ppl?" Meloni wrote. "Sounds like how dictators control the ppl. Thoughts?"
Among those who responded to Meloni's Twitter rant: Trump spoof account Donald J. Drumpf, which declared, "Sometimes I wish Chris Meloni were a federal agency so I could ban him from social media."
Well played, Drumpf. Well played.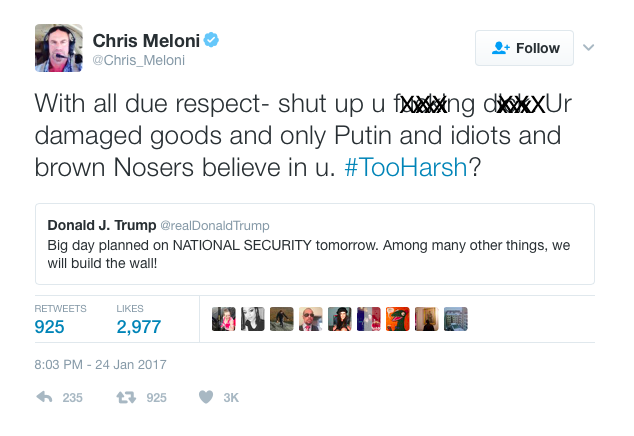 So Trumpets explain to me: how is censoring OUR govt giving govt back to the ppl? Sounds like how dictators control the ppl. Thoughts? https://t.co/Ua1TdgemWL

— Chris Meloni (@Chris_Meloni) January 25, 2017